Issue Area: UN-US Relations, Women & Population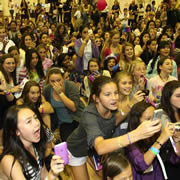 In the fall of 2010, the United Nations Foundation launched Girl Up -- a "for girls, by girls" campaign aimed at igniting a movement to transform the lives of adolescent girls in developing countries.
Since then, thousands of girls across the U.S. have been uniting to become forces of change in the lives of their counterparts in Liberia, Guatemala, Malawi and Ethiopia. These Girl Up supporters come from all over -- Ohio to California, New Jersey to Georgia, and beyond.
They all have one goal: to give a "High Five" to girls around the world. They are helping give 600 million young girls a chance to succeed, to be educated, to be healthy, to be safe from violence, to be counted, and to have opportunities to become a generation of leaders.
Girl Up kicked off its Unite for Girls Tour in New York City with a pep rally attended by hundreds of local girls and campaign Champions actress Victoria Justice and fashion photographer Nigel Barker. The tour events use interactive activities to offer teens and tweens a glimpse into the lives of girls in countries like Malawi, Guatemala, Liberia, and Ethiopia. Attendees also learn how to mobilize their friends in the U.S. to create change with the power of the High Five:
* Take five minutes to learn about issues impacting girls in developing countries
* Share the facts through social networks
* Send the Girlafesto empowerment poem to five friends or family
* Donate $5 or more to the campaign to provide school supplies, health checkups and more
* Host an event or set up a fundraising team through Girl Up
The tour will make several more stops in 2010 and into 2011, including Los Angeles, Seattle, Denver, and Washington, DC. To celebrate and support the world's girls, the Unite for Girls tour brings together campaign supporters, Teen Advisors, local partners, and Champions like Olympic gold medalist swimmer Rebecca Soni and UN Foundation Board Member Queen Rania Al Abdullah of Jordan.