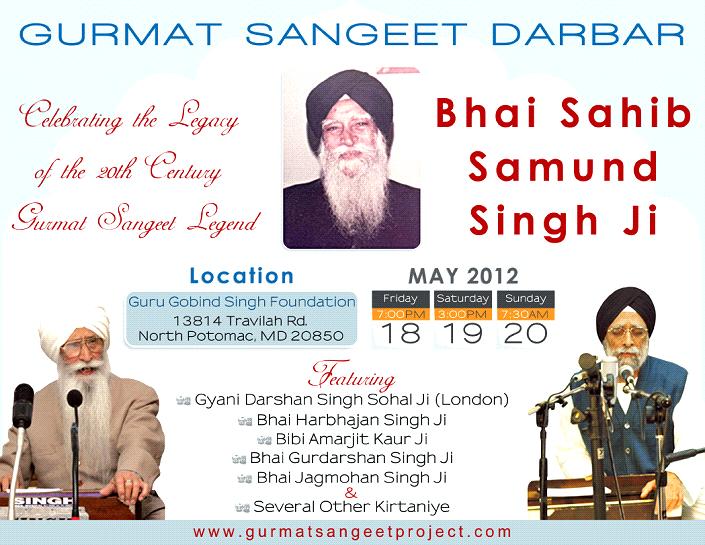 Guru Gobind Singh Foundation, based in Washington, is hosting a special and unique Kirtan program.
On May 18, 19, 20 (Friday, Saturday and Sunday), a Gurmat Sangeet Program dedicated to the legacy of Bhai Sahib Samund Singh Ji Ragi (1900-1972) will be facilitated by 'Gurmat Sangeet Project' at Gurudwara Sahib.
Bhai Samund Singh is known to have popularized the Gurbani kirtan in the original style with emphasis on the combination of Gurbani and Raag. His style left a permanent mark on the singing style of Sikh kirtan. His legacy will be celebrated during this three day program and various participants will perform kirtan in the similar style.
Guest Performers:
Harbhajan Singh: Ragi Samund Singh ji's son, Harbhajan Singh, is maintaining the style of his father and he will also be one of the participants.
Giani Darshan Singh Sohal is one of the most celebrated musicians in the field of Classical Gurbani Kirtan. His felicitous Kirtan performances reveal a well-judged elaboration of masterful improvisations of raga notes and skilful handling of rare melodic compositions and unusual Taals (rhythms). In addition, the purity of raga and clarity of recitation of Gurbani, even at peak speeds of execution signify an in-depth understanding and knowledge of both Gurbani and Indian Classical Music. This is further augmented by the mesmerizing balance of the mode of the raga and central emotion of the Gurbani verses, as well as the fine synchronization of Gurbani poetic meter and taal. http://www.gianidarshansinghsohaluk.info/giani-darshan-singh-sohal/
Program at Guru Gobind Singh Foundation, Rockville, Maryland. ( outside of Washington, DC)

Friday (May 18) - 7:00 PM To 9:30 PM (Rehras Sahib & Gurmat Sangeet Kirtan)
Saturday (May 19) - 3:00 PM To 9:00 PM (Gurmat Sangeet Program)
Sunday (May 20) - 7:30 AM To 9:30 AM (Asa Ki Var) by Sardar Harbahjan Singh Ji sung in the way as Bhai Samund Singh Ji used to.
- 10:00 AM To 1:30 PM (Gurmat Sangeet Kirtan Program continued)
For any sewa - in the areas of Langar, Lodging, Logistics, Audio recording, Visual recording, please contact:

Mandeep Kaur, 1.410.402.3710 or
mandeepsaurabh[email protected]
-----------------------------------------------
Bhai Samund Singh Ragi

Born at village Mulla Hamza in Montgomery District (now in Pakistan) in 1900 A.D., Bhai Samund Singh was given training in music by his father Bhai Hazur Singh Ji from his early child-hood. As a little boy he won a number of prizes and distinctions at musical concerts. He came to be known as 'Kaka Samund Singh' and was much in demand at Sikh congregations. His party came to be known as the best in the understanding of their art and almost perfect in presentation of Gurbani Kirtan. With his unique melodious voice, an extensive and deep understanding of Gurbani, correct interpretation of ragas, attractive style of singing and great human qualities, he reigned supreme for sixty years in the world of Gurbani Kirtan. He performed kirtan at the Gurdwara Janam Sthan, Sri Nankana Sahib, the birth place of Guru Nanak Dev, for many years. He broadcast kirtan for 36 years from All India Radio, Lahore and later from Jalandhar and commanded wide listening. Passers-by stopped in the streets to listen to his kirtan irrespective of their faith. He was invited to perform kirtan in the National Programme of Music by All India Radio, the highest recognition of his art. He was given State award by the Punjab Government in 1971. A few months later he passed away at Ludhiana (5th January, 1972).

According to the author of the Sikh Sacred Music, "Bhai Samund Singh is the most eminent Ragi in the Punjab. His forefathers were honoured Ragis at Nankana Sahib for five generations. He sings in simplified classical mould and balances the emotional effect of the music with the spiritual appeal of the word by repeating the phrases with subtle variations. He has a melodious voice of considerable flexibility. His rendering of shabads excels in lyrical refinement. He sings in medium tempo, creating the illusion of a placid flow of a stream."

He lived a simple life of a true devotee. It was his firm belief that the sacred music sung by a 'Ragi' must flow from a heart purified by practical life of simplicity restraint & constant meditation.

He will be remembered for a long time for his unrivalled qualities as a musician and scholar of Gurbani Sangeet.
Bhai Samund Singh Ji, whose style of Kirtan is a lesson to the modern ragis, who have forgotten the traditional way of "Gurbani Sangeet" and have adopted the 'filmi way' of singing. Until they revert to the traditional way of "Gurmat Sangeet" according to the Ragas in the Adi Granth, these ragis will be a downfall of the original style and mode of the music as scribed by Guru Nanak.
Bhai Samund Singh Ji with his disciples in a Sangeet concert and (right) Bhai Sahib with members of his family.

For more information on Bhai Samund Singh and his kirtan:
http://www.sikhiwiki.org/index.php/Bhai_Samund_Singh_Ragi
http://www.gurmatsangeetproject.com/Pages/RareRecordings.asp


Guru Gobind Singh Foundation
13814 Travilah Road, Rockville, MD 20850
www.ggsfusa.com
For Langar Sewa or Additional Information, please contact:
Mohini Singh 301 977 6555 or Thai Gurdarshan Singh Ji 301-309-9528; or Bhai Sucha Singh 510 706 8782 or Gurdwara Sahib 301-838-3004; or visit www.ggsfusa.com

Directions for the Gurdwara Sahib: From 495 Beltway, take 270 North, take Exit 6B for Rt 28 West, turn left at Darnestown Road, turn left at Travilah Road, go two miles and the gurdwara will be at your right.