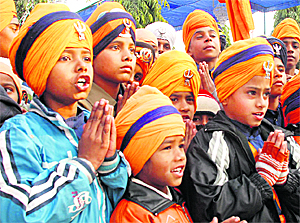 Fatehgarh Sahib, Punjab (December 26, 2011): The Three-day Shaheedi Sabha in the memory of two younger Sahibzadas Guru Gobind singh and his mother Mata Gujri ji began on December 26 at Fatehgarh Sahib.
Sikhs in large numbers from around the are paying homage to these great martyrs at the Gurdwara Fatehgarh Sahib and Gurudwara Jyoti Sarup.
Sahibzadas, Zorawar Singh and Fateh Singh were bricked alive at the age of 9 and 7 years by the orders of Wazir Khan, Governor of Sirhind in December 1705 AD during Aurangzeb's era. Mata Gujri Ji (The Mother of Sri Guru Gobind Singh ji and Grandmother of Sahibzadas) attained martyrdom the same day at Thanda Burj where they were kept before being given punishment. Akhand path started today at Jyoti Saroop sahib the place where they were cremated.
On Second day, i.e. 27 December, various religious, social and political parties shall hold conferences at Fatehgarh Sahib.
Panthic bodies including Panthic Sewa Lehar, Shiromani Akali Dal Panch Pardhani, Dal Khalsa and Khalsa Action Committee have decided to hold Shaheedi Conference at near Gurudwara Fatehgarh Sahib.
Other Parties like Badal Dal, Mann Dal and Congress party shall also be holding conferences to mark this occasion.
The Shaheedi Sabha shall conclude with Nagar Kirtan from Gurudwara Fatehgarh Sahib to Gurudwara Jyoti Saroop on 28th of December.