'Teach turban tying free of cost'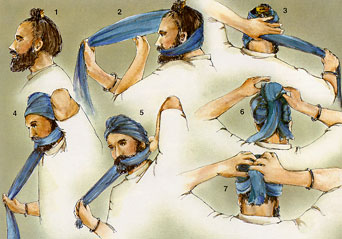 Jun 28, 2012 - LUDHIANA: In Sikh families when a boy reaches a certain age (usually 11 to 16), he is taken to a gurdwara and there, in the presence of the Guru Granth Sahib, his first turban is ceremonially tied on by the granthi or an elder. The ceremony designates the respect with which the turban is regarded - an article of faith, symbolizing the values of discipline, honesty, integrity, ethics, spirituality and humility. But with more and more people offering turban tying as a special course, the art has soon transformed into a money minting business.
Clearly the activity is not being appreciated by many residents who feel that this has become more of a commercial activity with people running the business charging exorbitantly for giving lessons.
"Turban tying is something which is taught by the elders to the young ones. Interestingly, every family has its own way of tying a turban and there is a lot of variety in the ways a turban can be tied. Nowadays people are charging huge money for teaching children the art of tying a turban which is not justified. One cannot be allowed to mint money by teaching how to wear an article of faith," said Gurbhajan Singh Gill, president, Punjabi Sahitya Akademi.
Balwinder Singh, professor at the Guru Nanak Engineering College, said, "I learned the art of tying a turban from my father. In my opinion joining such classes is not bad, but people teaching the art should not charge such exorbitant prizes. Rather they should do it free of cost and treat it as service towards community."
Gagandeep Singh, a resident of Model Town, said, "Everyone has his own style of tying a turban and this is taught by family. These days few people with vested interests have transformed it into a commercial activity, which is wrong. I think turban tying should be taught free of cost."
----------------------------------
Related Articles:

http://www.sikhnet.com/news/he-found-his-calling-turban-tying
http://www.sikhnet.com/pages/tyingturbans
http://www.sikhnet.com/news/turban-tying-knot-dying-art
http://www.sikhnet.com/news/turbans-are-cool-picture-yourself-one