AEOLIAN HALL: GuruGanesha Singh says his band isn't taking to the mainstream, but it seems the mainstream is taking to the band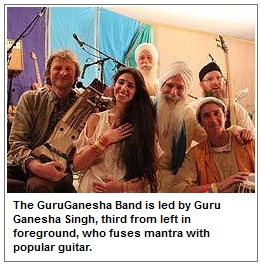 June 8, 2012: Meditation, yoga, sitar are among the words that come to mind when you hear the phrase 'mantra music.'
But when you take a listen to the GuruGanesha Band's music, the mantra is definitely there, but fused in "a unique blend of kirtan, raga, rock, and deeply meditative folk music" led by guitarist Guru Ganesha Singh.
And the 61-year-old Guru Ganesha brought his uniquely spiritual music to London for a performance last Sunday at Aeolian Hall.
"Music is a pure and direct expression of what is in your soul," said Ganesha in a telephone interview.
"The soul is a place beyond the intellect and it seems I'm always falling short with the words to express myself."
Singh, then known as Michael Gonick, was playing guitar in a rock 'n' roll band, Cat's Cradle, that toured one year with the Allman Brothers Band in the early 1970s before Duane Allman was killed in a motorcycle accident on Oct. 29, 1971 in Macon, Georgia, when he collided with the rear of a flatbed truck that had turned in front of him.
It was a profound shock to Gonick, who dabbled in drugs like many early rockers, and it was shortly after that he embraced Sikhism.
"A voice deep inside me told me I'd better find an alternative way of feeling good and feeling high and that's when I started looking eastward for my spiritual needs," said Guru Ganesha.
He turned to Yoga and his yogi said he liked the music coming out of the '60s but that "some of the lyrics you're using are really dragging you down and he suggested using either mantra or divine poetry and use that with music to uplift people," said Ganesha.
So, Ganesha's spiritual journey took his music in a different direction until today he fuses mantra with popular guitar genres and sweet vocal harmonies. His latest CD, Kundalini Surjhee, borrows from raga, rock, blues and even southern blues rock. (Check out You Can Make The Sun Shine, or One God at www.guruganesha.com) The GuruGanesha Band's world music sound is led by Guru Ganesha Singh on guitars, percussionist Daniel Paul, bassist Gurusangat Singh, rhythm guitarist/backing vocalist Sat Kartar Singh, with lead vocals handled by Michelle Hurtado, of Cuban heritage, whom Guru Ganesha says "goes into a deeply meditative trance when she sings."
The popularity of mantra music is clearly on the upswing, side-by-side with the growing popularity of yoga and Guru Ganesha said he remembers playing to crowds of 20-40 people, which pale in comparison to the venues of several hundred to more than 1,200 today.
"We're not going to take to the mainstream, but I think the mainstream is going to come to us," Guru Ganesha said. "We do not take a 'holier-than-thou' approach. We want people to get up and open their hearts and have a spiritual, heart-opening experience."