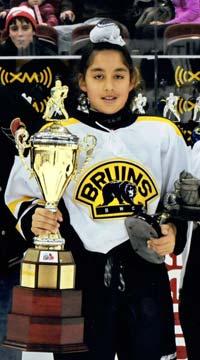 For a young boy growing up in Surrey and whose father hails from Punjab, India, Arshdeep Bains has dreams of Edmonton.
Bains, 11, was not even born yet when Wayne Gretzky, the greatest Oiler ever to don the jersey, played his last professional hockey game in the NHL.
And should Bains ever achieve his dream of making it to his favourite NHL team, he will have to choose a different number than his current #17 – the Oiler's version bearing the name of Jarri Kurri hangs from the rafters.
In his brief number of years playing ice hockey, Bains has already risen in his chosen sport and these days is able to stickhandle around his father with relative ease.
That ability, however, didn't come without trials, starting with overcoming the teasing and bullying of his peers. Thanks to the guidance of his father and grandfather, however, that soon passed. They taught him that a key part of success in sports, as in any facet of life, is the ability to focus the mind on a task and overcome one's natural insecurities.
Soon Bains' confidence soared as he found that his build and speed gave him an advantage on the ice.
His team, the Burnaby Winter Club Bruins, recently won the Bell Capital Cup in Ottawa for the atom AAA division. Bains was the top scorer in the tournament and received a standing ovation when he went up to the podium to collect his trophy.
And waiting for him with a hug was his grandfather, an avid sportsman during his own youth in the Punjab.
The terrain and arena were different and the footwear was now skates, but the lesson his grandfather recited from his Sikh faith was again proven true: win your mind, win the world.