Sikhs in the UK will serve langar  along the route of the Olympic Torch Relay on July 21, informed United Sikhs Project Director Langar, 2012 Mejindarpal Kaur on Wednesday.
She said the organization had held an exhibition as a pre-event to celebrate the Olympic Torch Relay in which the 101-year-old Fauja Singh had also participated.

See Related article: 101-yr-old Sikh-Briton Marathoner Fauja Singh Named Olympic Torch Bearer For London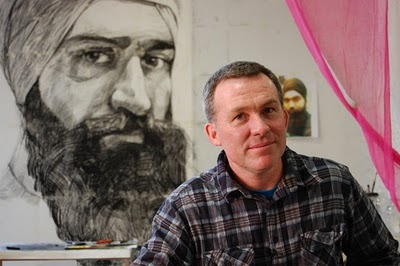 The exhibition by Australian artist, Daniel Connell, titled: Identity: Sikhs Embracing Diversity, was held at the Gurdwara Sri Guru Singh Sabha Southall, London, to showcase the Sikh identity, during the Queen's Diamond Jubilee weekend.
See Related articles:
Sikh taxi drivers are inspiring artist Dan Connell
and
Portraits on Oz Sikhs win accolades
She also said that the drawings were not of martyrs but of ordinary Sikh men who had recently migrated from Punjab to Adelaide in Australia. "United Sikhs will work with Sikh gurdwaras and individuals in the UK and from around the world by serving langar during the London Olympic Torch Relay when Fauja Singh will carry the Olympic Torch. Fauja Singh is the community's gift to the world," said project manager for Langar 2012 Parvinder Kaur.
Parvinder informed that in order to engage the Sikh community in the UK for Langar 2012 they were holding a series of pre-events. Moreover, the exhibition by Australian artist Daniel Connell had proved to be a good start for a dialogue in the community about what it needs to do to showcase its identity.