Now open (pic on left). The Seva Food Bank, an initiative of Sikhs Serving Canada opened its doors yesterday. The food bank is open to anyone but also has a mandate to provide safe, nutritious and culturally-appropriate food to families in need. The Seva Foodbank's board members cut a celebratory cake from left, Inderpreet Kaur Mudhar, Gosha Kaur Sekhon, Birender Kaur Gill, Amritpal Singh Gosal, Manraj Singh Pannu, Kulvir Singh Gill, Amarpreet Kaur Ahluwalia,Chair Gurmeet Singh Ahluwalia, Manpreet Kaur Gosal. Staff photo by Fred Loek (pic on right)
New food bank opens
The city's fourth food bank opened yesterday on Wolfedale Rd.
In partnership with the Mississauga Food Bank, the Seva Food Bank is an initiative of Sikhs Serving Canada, a non-profit organization that mobilizes Sikh-Canadians to get involved in their local communities. Seva is translated as "selfless service."
"It's our goal to serve culturally appropriate food for our clients," said Gurmeet Singh Ahluwalia, Chair of Sikhs Serving Canada. "A lot of places you see focus on staples of Canadian food, like peanut butter or Kraft dinner. We want to also provide food that people are familiar with in their culture."
The 3000 sq.-ft. food bank has more than 100 volunteers that assist the more than 400 clients. It originally opened for business back on Sept. 1, but this official unveiling gave community members a chance to celebrate the more than two years of work put into opening the city's newest food bank.
"Today's a very exciting day," said Chris Hatch, executive director of the Mississauga Food Bank. "The ribbon cutting ceremony is a fruition of a lot of work by a lot of people."
The Seva Food Bank has both fridges and freezers at their location to accept perishable and non-perishable items. They also offer personal care products and home cleaning products.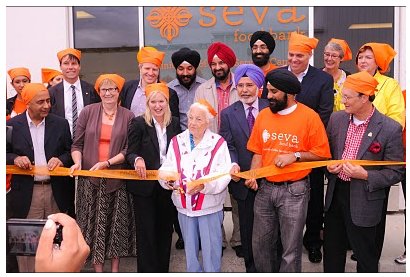 "The food banks are essential, even though we'd like to eliminate poverty," said Mississauga-Erindale MPP Harinder Takhar. "I think this (food bank) will meet some very real needs of the people."
Other guests in attendance included Mayor Hazel McCallion, MP Mississauga-Streetsville Bonnie Crombie, MP Mississauga-Brampton Navdeep Bains as well as numerous city councillors.
After speeches inside the warehouse, the crowd was brought outside for an Ardaas (Sikh blessing) of the building. Following the Ardaas, Mayor McCallion cut the ribbon.
"It really is a sense of pride and a sense of thankfulness that so many people have contributed to bring us to this point," said Kulvir Singh Gill, volunteer organizer of the Seva Food Bank. "We're just happy to be up and running and happy to be serving the community."
For more information on how to donate to the food bank visit www.sevafoodbank.com
Watch Video :
http://www.mississauga.com/videozone/872262
The Seva Food Bank is an initiative of Sikhs Serving Canada, a not-for-profit organization that seeks to help the community by demonstrating the basic Sikh tenets of sarbat da bhalla (the well-being of all) and seva (selfless service).