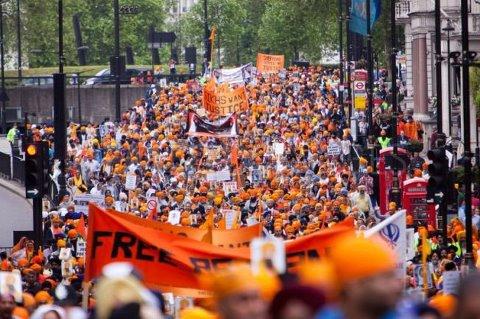 An estimated 10,0000 Sikhs marched from Hyde Park to mark 28 years since the 1984 Sikh genocide and the destruction at the Golden Temple in Amritsar, calling for justice, freedom for Sikh political prisoners and the establishment of an independent Khalistan.
There was a large crowd listening to speeches in Hyde Park when I arrived shortly after the official start of the event, and people were still arriving in large groups from around the country an hour later. There were a few speakers who translated all or part of what they said into English, but although I could understand little of the rest, the unanimous powerful support for Khalistan was clear, with chants of 'Khalistan Zindabad' (Long Live Khalistan) and raising of fists in support.
Eventually the march began to form up, led by a group of Khalsa marching barefoot; two men in blue robes and red turbans carrying the Sikh standard and a few yards behind five in orange with their swords held upright - the five 'Blessed Ones' (Panj Pyare.) Behind them were a group of mainly young men carrying black coffins, followed by young men and women carrying long poles with black flags, both symbolising the thousands of Sikhs killed in the 1984 genocide and since then.
In 1984 Indian Prime Minister Indira Ghandi ordered the Indian Army to storm the Golden Temple in Amritsar, claiming that Sikh separatists led by Jarnail Singh Bhindranwale were storing weapons there with the intention of beginning a major armed struggle to establish a free Sikh state. The temple was badly damaged and more than a thousand, including Bhindranwale, were killed.
Many more Sikhs were killed in riots following the attack, said by Sikhs to have been part of a planned eradication of Sikhs encouraged by the Indian states. Later in the year Mrs Ghandi was killed by her two Sikh bodyguards in retaliation for the attack on the Golden Temple and this was followed by widespread attacks on Sikhs.
Attacks on Sikhs continued and in particular the Punjab Police under Chief Minister of Punjab Beant Singh acted very forcefully against those suspected of supporting the formation of an independent Sikh state of Khalistan, and was alleged to be responsible for the extra-judicial execution and cremation of tens of thousands of Sikhs. He was killed in 1995 in a suicide bomb explosion by police officer Dilawar Singh Babbar and another policeman, Balwant Singh Rajoana was involved in the plot to kill him.
Rajoana, who confessed his involvement and justified it by the discrimination against Sikhs by the Indian government and judicial system, including the 1984 attacks, was sentenced to death by a special court and was due to be hung on 31 March 2012. He had refused to defend himself or to have a lawyer or ask for mercy by an appeal for clemency was made by the Sikh Shiromani Gurdwara Parbandhak Committee and the Indian government postponed his hanging.
The Sikh Akal Takht, the highest temporal authority of Sikhism, has named Rajoana as a "Living Martyr" (and Babbar as a "National Martyr." Many of those in todays protests carried pictures of Rajoana and showed their support of the 'I Pledge Orange' campaign, pledging support of humanity, love, peace, unity, equality, justice and freedom and specifically against the execution and called for his release, along with all Sikh political prisoners.
According to Dal Khalsa UK, as well as the death sentence for Rajoana, recent months have also seen "the burning of Sikh Turbans,Threats to Sikhs & the Killing of Sikhs by Shiv Sena,RSS,BJP & Other Hindutva Terrorists Groups - with state support."
I left the march as the end of it made its way onto Piccadilly on its way to a further rally at Trafalgar Square.