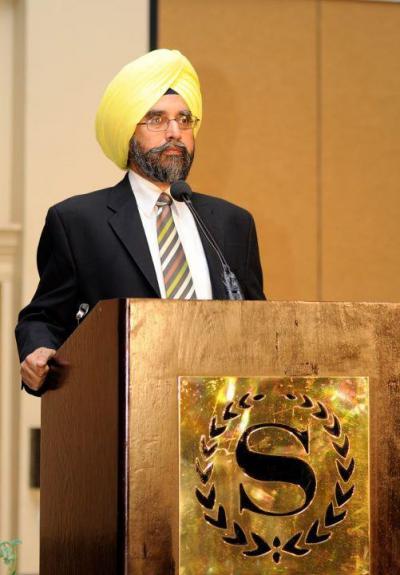 Washington, DC - With both houses of the Indian Parliament clearing the Anand Marriage Amendment Bill 2012, there was a sense of joy and satisfaction among Sikhs across the globe, including in the United States. The bill paved the way for the validation of Sikh traditional marriages, amending the Anand Marriage Act of 1909, thus providing for compulsory registration of "Anand Karaj" marriages.
Welcoming the passage of the law in Rajya Sabha (Upper House) and Lok Sabha (Lower House) of the parliament, Rajwant Singh, chairman of the Washington based Sikh Council on Religion and Education, said, "This is an historic day for Sikhs in the Independent India after a long and hard struggle. Not having a full recognition of their observances and their customs in India had created a sense of lack among Sikhs in India and it questioned their independent identity as a community."
Moving the bill for consideration, Indian law minister Salman Khurshid said the legislation was evidence of the intention of the government to respect the rights of people of all religious communities.
Rajwant Singh called the Indian government's action "thoughtful," thus acknowledging the Sikh tradition and its validity, noting that the move "sends a signal that India welcomes its own vibrant diversity and honors its own minorities."
Rajya Sabha adopted the bill on Monday by a voice vote at the recommendation of the cabinet under Prime Minister Manmohan Singh, while the bill was also passed by the Lok Sabha by a voice vote on Tuesday.
Rajwant Singh commended the Sikh parliamentarian Tarlochan Singh "for his meticulous legislative work," urging the Sikh community "to make full use of the political process to get full rights and this is a prime example."
I.J. Singh, a New York based Sikh commentator and author, hailed the passage saying, "Forming policies around Sikhs customs is an evolving process and we hope as community develops consensus, it should not take another 60 years to make changes in the current law."
Pleased with the final outcome of the long standing bill, Ranjit Singh, chairman of the Maryland based Guru Gobind Singh Foundation, said, "Finally Sikhs in India have the chance to feel that they are fully acknowledged ... That is a victory for Sikhs. Indian Parliament leaders also deserve recognition for their unanimous decision."
Indian Parliamentarian Tarlochan Singh moved the bill in the Rajya Sabha as a private member's bill in June 2007 to amend the existing rule for separate registration of Sikh marriages. With some hiccups, the bill moved in 2012 and cleared the legislative process in record time. (IATNS)