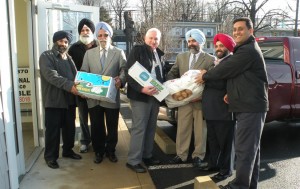 Robin Lee Michel



Unloading the goods


Unloading food supplies are, from left, Surinder Singh, Kulwant Singh Samra, president of the Southington Sikh congregation, Darshan Singh Bajwa, executive director of Bread for Life Eldon Hafford, Brahum Singh, Harpal Singh and Manjit Singh Walia.
Jan. 08, 2012:
One of the Sikh religion's major principles is to help mankind by sharing and performing charitable service from the fruits of your own work. When the devastating earthquake occurred in January 2010 in Haiti, the Sikh community responded with millions of meals, tents, funds and manpower.
"Wherever there is a calamity, we always come forward. Sikhs help any way they can," said Kulwant Singh Samra, president of the Southington Gurdwara Guru Nanak Darbar Sikh, house of worship, located at 1610 West St. Service is also a way to honor God.
On Dec. 23, this local religious community did not travel a thousand miles to help others but instead turned to Bread for Life, the feeding program for Southington's underserved.
Members of the congregation shopped at a wholesale warehouse to purchase hundreds of pounds of food goods to be used at the Bread for Life soup kitchen and for senior citizen meals delivered weekly to all of town's senior housing locations.
Throughout the year food collections are held, which are heartily supported by residents and businesses. However, much of the food, because it is individual- or family-sized, goes to the community food pantry, which is administered by Southington Community Services.
The Sikhs' latest purchase was of institutional-size goods to be used when making meals for the 30 or so individuals who visit the weekday lunch program at the Friendship Hall at the Masons Lodge on Main Street and for the dinners that go out to the senior citizens. On the crisp December morning, a half-dozen men unloaded items such as 50-pound bags of potatoes and cases of cans from a pickup truck at the door to the food bank storage area, located at Apple Valley Bank on North Main Street.
"Every week, volunteers deliver 600 senior meals and there are 30 daily meals served plus the home meal that they take home. Folks like this make it possible because without their support we wouldn't be able to do this," said Eldon Hafford, executive director of Bread for Life.
"We had a great day today," said Bill McDougall, president of the Bread for Life Board of Directors, talking about the Sikhs' food delivery and several other donations that arrived that morning.
"I don't bubble like Eldon," he said, referring to the effusive words the executive director uses when talking about how grateful he is to the community and about the life stories he hears. "But just the spirit of the community, not only on Christmas, it happens in July, all of it is good. Gifts like this make it possible to expand the program."
"We have a passion for people," Hafford said. "We just want to feed people."
-----------------------
For more information about Bread for Life or to make a donation, visit the website www.southingtonbreadforlife.com .
For more information about the Sikh congregation, visit the website www.ctgurdwara.com
.