Sikhs carrying kirpans denied entry at Quebec legislature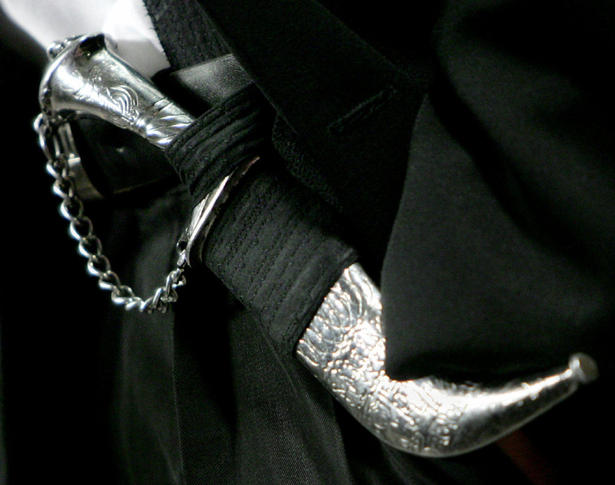 CHRIS WATTIE/REUTERS

Gurbaj Singh Multani displays a ceremonial dagger, known as a kirpan, during a news conference on Parliament Hill in Ottawa.
QUEBEC—Several Sikhs were denied entry into the Quebec legislature Tuesday amid a heated debate over multiculturalism and where to draw the line when it comes to tolerating cultural practices.
Security officials at the Assemblée Nationale refused to let them in because they were wearing kirpans, small stylized daggers worn by some religious Sikhs.
Four representatives from the World Sikh Organization of Canada had planned to attend public hearings but were told by security to leave their daggers at the door if they wanted to enter. They refused.
The provincial government reacted with cautious language to the decision. The opposition Parti Québécois, meanwhile, applauded heartily and said Canadian-style multiculturalism was unwelcome in Quebec.
The timing of the incident was laden with symbolism as the subject of the hearings was accommodating immigrants.
The visitors had planned to attend legislative hearings into a bill that would set some limits on religious practices — namely, denying government services to Muslim women with covered faces.
The Sikhs said that, while their own religion forbids covering women's faces, they planned to speak out against the bill anyway, in the name of religious tolerance.
The Sikhs noted that legislatures in other provinces and in Ottawa had, unlike Quebec, allowed entry to Sikhs with kirpans — as had last year's Vancouver Olympic venues, despite heavy security at the Games.
"The national assembly has no written rules or policies regarding the kirpan, and we can't even find out who is making the decision to exclude us," said Balpreet Singh, the World Sikh Organization's legal counsel.
"Freedom of religion may be enshrined in Canada's Charter, but that's meaningless unless we all stand up to protect the rights of religious minorities — especially when we disagree with their beliefs."
The so-called reasonable accommodations debate raging in Quebec has often focused on Muslim women's face-coverings and where they should be allowed.
But the current debate arguably began years ago with controversy over a boy who wasn't allowed to wear his kirpan at school.
In that case, the Supreme Court of Canada finally ruled 8-0 that a total ban of the kirpan in schools violated the Canadian Charter of Rights and Freedoms because it infringed on religious freedom. However, in that same 2006 decision, the court also allowed school boards to impose some restrictions in the name of public safety.
_______________________________________________________
Bloc to seek parliamentary ban on the kirpan
LES PERREAUX ~ MONTREAL­ From Thursday's Globe and Mail
Could an Ontario MP who has quietly worn his kirpan to the House of Commons for six years pose a parliamentary security risk?
The Bloc Québécois has turned another Quebec debate over the accommodation of religious minorities into a national question after four Sikhs who refused to surrender their ceremonial daggers were denied entry to the Quebec National Assembly.
The Bloc endorsed the decision by security officials at the National Assembly, saying on Wednesday that it will ask Parliament to consider doing the same for MPs and visitors alike.
The Quebec "decision is well-founded and maybe it's time for Parliament to adopt similar rules," Bloc whip Claude DeBellefeuille said in a statement.
In an interview, she said MPs need to establish why the kirpan is not considered a weapon like any other metal knife. "It has to be analyzed from the point of view of security," she said. "We need adequate security measures."
The issue is deeply personal for Navdeep Bains, a Sikh Liberal MP from the suburbs west of Toronto who wears the kirpan. He decried what he called "the politics of fear" being waged by the Bloc.
"They're trying to plant the seeds of confusion and distrust in people, to divide one Canadian against the other," he said.
Mr. Bains has worn his kirpan without incident to Parliament, the Supreme Court and during numerous visits to the U.S. Congress. Earlier this week, he wore it at the Newfoundland House of Assembly.
"I don't know why they're doing this," he said. "It's extremely upsetting to see from any party, especially at the national level."
To the rest of Canada, it may seem the kirpan question had been settled. The Supreme Court, the RCMP, the Vancouver Olympics, Via Rail and most legislatures and city halls have made accommodations for the kirpan to allow devout Sikhs to participate fully in their activities.
The Supreme Court has also ruled the kirpan is to be allowed in schools as long as it is small and worn inside clothing. In its 2006 decision on a Quebec case, the court pointed out students have ready access to numerous objects as dangerous as the kirpan, from scissors to baseball bats.
But in Quebec, which human rights lawyer Julius Grey once described as having an "unhealthy obsession" with the kirpan, religious rights increasingly take a back seat to other collective concerns.
The four Sikh men were in Quebec City at the government's invitation to testify at a hearing into Bill 94, a law to force Muslim women to uncover their faces in many public institutions. The law was hastily drafted after a woman wearing a niqab became a disruption in French classes.
In the case of the Sikh men, security was the overriding concern cited by National Assembly officials, legislators and most of the province's opinion leaders. The matter has become another example of a Quebec consensus shared among many francophones that flies in the face of accepted wisdom among the adherents of Canadian multiculturalism.
On French-language airwaves on Wednesday, Pierre Duchesnes, the National Assembly's head of security, was lauded for his no-nonsense approach. "If it can be used to stab, to me it's a knife," he said.
Security at Quebec's legislature has been a little tighter than most in Canada for decades, particularly after Denis Lortie shot up the building in 1984, killing three and wounding 13. More than 20 years later, bullet holes were still unrepaired as solemn reminders of the day.
Airports don't allow the kirpan through security, and Mr. Duchesnes said he tries to use similar standards. He admitted the metal knives used in the legislature's dining hall are still accessible to the public. He said a second layer of security ensures steak knives stay out of MNAs' offices or the hall where they meet.
Balpreet Singh, a Toronto Sikh who was one of the four men denied entry at the National Assembly's metal detectors, said he was floored to hear the outright rejection of Canadian-style multiculturalism by several Quebec politicians and commentators.
"That goes beyond the pale for me," Mr. Singh said. "Multiculturalism is a model that has worked brilliantly in Canada. The French model of laïcité [secularism] has caused ghettoization and mob violence."
He also denied accusations in some quarters that he and the three other representatives of the World Sikh Organization of Canada were provoking confrontation.
While they called ahead and were told they probably couldn't carry kirpans in the National Assembly, the men had a written invitation from the government.
"It boggles the mind that they'd invite the World Sikh Organization and not expect kirpans," he said. "We didn't go there hoping to provoke a fight, but I'd be lying if I said I didn't realize it was a possibility."
Jagpal S Tiwana Dartmouth, Canada With reports from Daniel Leblanc and John Ibbitson in Ottawa.
http://www.theglobeandmail.com/news/politics/bloc-to-seek-parliamentary-ban-on-the-kirpan/article1876130/
__________________________________________________________
UPDATE:
Liberal Party Leader Michael Ignatieff has also commented, while the Conservatives remain quiet.
Statement by NDP Leader Jack Layton on the Kirpan
January 20, 2011



Statement by NDP Leader Jack Layton on the Kirpan


It's time to stop playing divisive, political games with Canadian's religious beliefs. Canada has a reputation of tolerance and understanding, and we must continue to work together and embrace our differences.

New Democrats are disappointed that the Bloc Quebecois wants to ban Sikhs from carrying their kirpans in the House of Commons. Ironically, the Bloc supported the NDP's motion to recognize the Sikhs' five religious articles of faith, including the kirpan. We're saddened at their sudden change of position and support.

The kirpan is an article of faith worn by all initiated Sikhs. It is not a weapon. The kirpan is one of five religious articles of faith, mandated to be worn at all times for initiated Sikh men and women.

In 2001, the NDP was proud to introduce a motion in the House of Commons to recognize the importance of the "5 K's", the religious articles of faith for Sikhs. It was introduced by former NDP MP Bill Blaikie (Winnipeg-Transcona) but failed to pass when the Liberals refused to support it. Eventually, a motion by former NDP MP Judy Wasylyica-Leis (Winnipeg North) to recognize the "5 K's" was accepted by all parties in 2006.

Sikhs have been in Canada for over 100 years and their contributions to this country have been tremendous. We stand with the Sikh community in solidarity.

Source – http://www.ndp.ca/press/statement-by-new-democrat-leader-jack-layton-on-kirpan