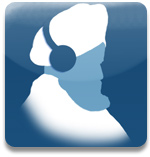 SikhNet's popular Gurbani audio streaming mobile app that allows you to listen to live kirtan from Gurdwaras around the world.
 
Now you can listen to SikhNet radio on your iPhone, iPod Touch, or iPad wherever you have an internet connection. It allows fast, easy streaming of all the SikhNet radio channels directly to your iPhone and will accommodate new music channels as they are added.
You can go to the
iTunes store
and
open the app
to download it in iTunes on your computer or you can download it directly on your
iPhone
(or in the iTunes store) by simply searching for
"sikhnet". 
The app is currently for sale for 99 cents (or similar amount in your currency) in order to support continued development of this application.
App includes popular live audio streams like live kirtan from Harmandir Sahib, in Amritsar, India.
In addition to the live Gurdwara broadcasts, listen to SikhNet radio channels (1-7) featuring different types of Gurbani music (Raag, Akhand Path, Western, Simran, etc).
Most popular Gurbani audio app with over 60,000 downloads & 5 star rating.
★★★★★ "This is a must app for all Gurbani loves.."
★★★★★ "Best app ever seen"
★★★★★ "Have used for 6 months & love it!"
Features:
✔ Simple interface for listening radio channels
✔ Background audio playing support
✔ Pause/Stop control from lock screen
✔ New layout of channels with images
✔ "Now Playing" track/artist info for Channels 1-6
✔ Volume control slider on channel page
✔ Dynamic auto update of channel list from SikhNet
✔ Works with iOS 3.0 and above.
SikhNet is an 501c (3) educational non-profit organization and is supported almost entirely through your generous donations. Please donate now to SikhNet