'Sikhí Works'
A talk by Harjinder Singh (Man in blue) with Pritpal Singh on his understanding of Sikhi
-----------------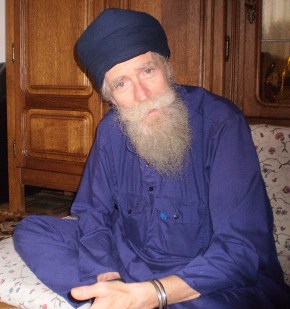 The Man In Blue – De Blauwe Man – Nila Wala

Feb 6, 2013: I am Harjinder Singh, also known as 'The Man in Blue'.

I am a Sikh, I am from the Netherlands, my biological age is 65 and I became an amritdhari Sikh on 14 July 1996.

I am a 'white' Sikh but I do not follow the yogi. I have been to many all-night kirtans but I am not with AKJ. I took amrit in Mehta Chowk in the Damdami Taksal Gurdwara, but I am not a Taksali.

The Guru instructed us before he passed away to follow Guru Granth and Guru Panth. I have been trying to practice this in my daily life since 1996.

I am not a saint, I am only human and make mistakes.

The YouTube video to which you find a link below is called 'Sikhí works'. The meaning is simple : Those who follow the way of life as described by the Guru Granth Sahib will, as Guru promises, overcome 'dukh' (pain) and find 'sukh' (peace).

The interview was recorded in the Sangat TV studio in Southall and Pritpal Singh ('The Dutch Sikh' YouTube Channel) interviewed me.