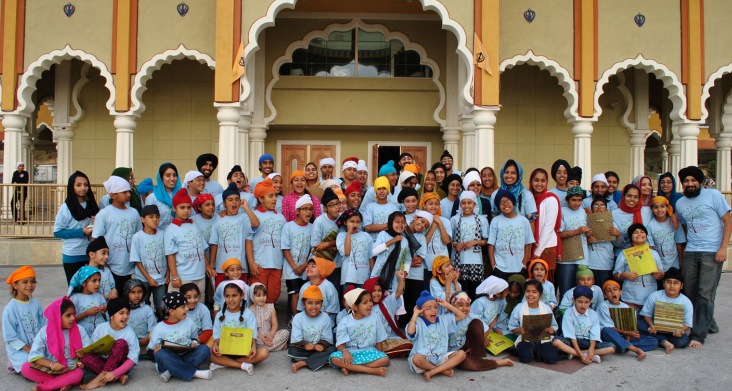 San Jose
FRESNO, CA - Jakara Movement recently held three successful Sikh Children's camps in San Jose, Fremont and Fresno with over 200 children attending. These camps kick off Jakara Movement's Fall 2010 Jakara Junior program, which successfully brings together youth to learn about Sikhi. Approximately 2000 Sikh youth are involved in Jakara Junior camps each year. Camps are held in about 12 regions throughout California.

For the first time, Jakara Junior camps will also be held outside California - in Seattle and New York, expanding the impact this program has on Sikh youth all across North America. Camps started last weekend and will be wrapping up toward the beginning of December.

This year's theme is "Sikhi Da Buta" and children will begin to plant the seed of Sikhi by learning about good deeds, community service and seva.

The camp is designed to bring children closer to Sikhi by helping them to understand the significance of the Guru Granth Sahib. Activities include poetry, games, arts and crafts, Gurbani workshops, presentations and hands-on activities inside the Gurdwara. The Jakara Junior camps are open to all children, ages 5 and above.
ABOUT JAKARA MOVEMENT:
Jakara Movement seeks to encourage engagement with Sikh culture through education, research, and community outreach initiatives. Founded in 2000, the Jakara Movement began as a collegiate conference, but has evolved into an institution for the recruitment and training of volunteers and a hub for the Sikh Californian youth. With a focus on the interstices of education, health, gender, and social justice, the Jakara Movement inclusively engages large sections of the Sikh youth in various projects to strengthen their identity and consciousness as Sikhs, foster education through service-learning, and inspire activism and volunteerism within the greater Qaum.