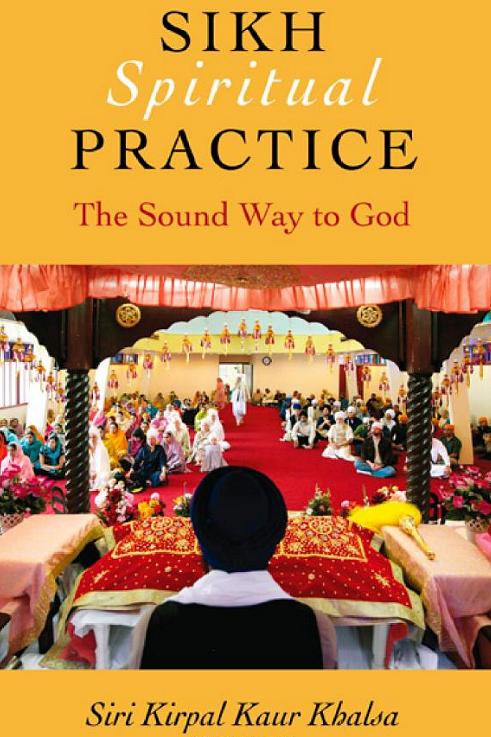 Siri Kirpal Kaur's inspiring book, Sikh Spiritual Practice: The Sound Way to God, is simple, straightforward and unbound by dogma. She explains Sikhi in language anyone can understand and she has a talent for cutting away confusion, obscurity and controversy. Like the poetry of Puran Singh, this is book written from true love of Sikhi not from a dry, analytic perspective. It is a book that speaks plainly from heart to heart.
Using beautiful Tuks from Gurbani to frame each chapter, Siri Kirpal Kaur not only explains the basics of the Sikh lifestyle, but she also tells her own personal experience of discovering her destiny on the Guru's path.
Misconceptions about the life and mission of Yogi Bhajan abound in media and on the Web, and she does a lot to clear those up in her personal history narrative.
Yes, the history of the Sikhs is here (as it is in many places) but it is told in a fresh and inspiring way by showing exactly what each of our Gurus gave us to use in our own lives today.
From an explanation of each of the nitnem banis to the reasons why we do all the things we do in Gurudwara (no, they are not rituals) her engaging prose unfolds the technology behind our lifestyle.
Siri Kirpal Kaur's deep love of morning sadhaha in the amrit vela permeates the pages of Sikh Spiritual Practice: The Sound Way to God.  

You will find this a very practical book in that it actually gives clear instructions for meditation and morning sadhana. You can easily take this book and begin (or enrich) your own spiritual practice by using its techniques in your own life each day.
There are other engaging stories of personal experience of Sikhi from fellow Gursikhs within these pages. The joy of rediscovering the most intimate and sacred relationship of all, the relationship with one's Guru, flows from these deeply personal narratives. Stories of seva, living as sant-siphai, receiving the Guru's amrit and the spiritual, as well as the practical, aspects of marriage (both arranged matches and love marriages) and of the Lavaan itself inspired me and brought smiles of understanding to my lips.
Above all, what shines through this beautifully written book is the spirit of universality, acceptance, service to humanity and love of God within all being that underlies true Sikhi.I invite you to read Sikh Spiritual Practice: The Sound Way to God and be inspired as I was.
Her sweet epilogue is an invitation to her readers:
 "We can get along despite our differences. We can reach out our hands to each other. All of us can dance together in the circle of life. Sikhs have proclaimed this from the beginning. We will feed you, we will serve you, and we will give our lives for you regardless of our differences. In God we all dwell. Shall we enjoy the mansion of God's Love together? Shall we dance?"


 Sikh Spiritual Practice: The Sound Way to God is available from the following booksellers:
and in the UK Watkins Books