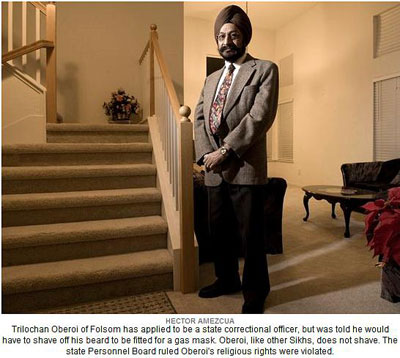 The California Department of Corrections and Rehabilitation discriminated against a Sikh man from Folsom by insisting he shave off his beard before he could become a prison guard, the state Personnel Board has ruled.

The board ruled that the CDC violated Trilochan "Obe" Oberoi's freedom of religion when it told him he had to shave to pass a gas mask fit test before being hired.

Devout Sikhs consider their hair most sacred and never shave.

"Inside I'll die if I cut my beard," Oberoi said Tuesday. "Once you touch the razor or touch the scissor, your religion is gone."

The CDC, which employs 25,000 correctional officers to manage 152,000 inmates in 33 adult institutions, told Oberoi he must be clean-shaven to ensure a gas mask would fit properly.

Oberoi responded, "If we clean-shave, what's the guarantee that you get the job? We believe that if you have faith in God, you should not touch your hair and God will take care of you."

Oberoi, 62, is a former commander in the Indian navy and captain in the Indian merchant marine.

After 34 years on the seas, Oberoi moved to the United States in 1999 and became a citizen. He's now a cashier at Wal-Mart and an assistant math teacher at a Rancho Cordova elementary school.

Oberoi applied to become a correctional officer in 2005 because, he said, "I really wanted to work in a uniform and serve California and the U.S. as honorably as I had served India."

He'd met most of the CDC's requirements, including a physical abilities and vision test, background check, psychological evaluation and prescreening interview.

But in May 2006 the CDC told Oberoi he couldn't take the gas mask fit test without shaving.

Alberto Roldan, chief deputy general counsel for the CDC, said the gas mask fit is a serious safety issue.

If Oberoi's mask doesn't fit properly, Roldan said, "it constitutes a significant danger to both himself and others when tear gas is used to quell riots or control a violent situation."

But Administrative Law Judge Gregory Brown noted the CDC has hired correctional officers who can't shave their beards because of skin conditions.

Since the CDC allows those employees to use a different gas mask, "it is difficult to imagine why it cannot extend the same accommodation to CO's who cannot shave for religious reasons," wrote Brown in his decision last month.

Brown ordered the CDC to try to accommodate Oberoi and expedite his application.

Oberoi's lead trial attorney, Harmeet Dhillon, called the ruling a victory for religious freedom in California.

"It affects not only Sikhs," she said, noting that Orthodox Jews and some Muslims wear beards in keeping with their faith.

"The CDC took blatantly discriminatory positions unsupported by law," said Dhillon, chairwoman of the Civil Rights Committee of the South Asian Bar Association of Northern California. "I hope this ruling encourages many others to apply, and the prison guard population will better reflect the diversity of our state."

The CDC, which has until Dec. 18 to appeal the ruling, never intended to discriminate against Oberoi's religion, Roldan said. "If he can't wear a traditional gas mask, we'll have to see if the other gas mask used for current employees unable to shave would protect him appropriately."

Some Sikhs have beards as long as 2 feet that are rolled up or cinched back, Oberoi said. "I'm a very light-bearded man and I'm at the age where my hair's started falling out. Below the chin it's maybe 5 to 6 inches."

His wife, Swarn, braids it and helps him tuck it in, he said. "I never leave the house with my beard flowing."

Oberoi wore gas masks for a Nuclear Biological Chemical Damage Control course in the Indian navy without incident.

Oberoi still has to complete the application process before he's sent to a 16-week training academy.

The CDC's Roldan said Oberoi's three-year struggle to become a prison guard has taught the CDC it "absolutely has to think outside of the box – we don't want to preclude a potentially very good population of employees. If that person can do the job, everyone's going to be in a better situation."
By Stephen Magagnini
[email protected]