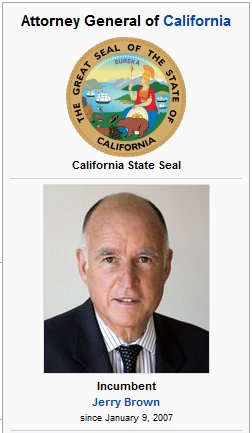 21 Oct. 2010: California: Jerry Brown, who currently serves as the state's Attorney General and gubernatorial hopeful of California has been approached by civil rights organization for his delayed action in allowing Trilochan Singh Oberoi, a bearded Sikh to serve as a state prison guard, reports Sunita Sohrabji of IndiaWest.
Former Indian naval officer Trilochan Singh Oberoi applied to the California Department of Corrections and Rehabilitation in 2005 for a job as a correctional officer at the Folsom State Prison. After passing a battery of exams, Oberoi was told by prison officials that he would have to shave off his beard before taking the final 'Respirator Fit' test which he refused, saying his beard was religiously mandated. The CDCR then deemed Oberoi unfit for employment with the agency.
The Sikh Coalition filed a petition drive asking the community to call upon their state legislators to demand that Brown should rush up verdict on the long awaiting case. "This is clearly a discriminatory policy that the Attorney General is defending and there's a certain irony here given that Brown has a reputation of being very liberal on civil rights issues," Harsimran Kaur, legal director of the Sikh Coalition.
The official at the AG's office directed the query Robert Gaultney, staff counsel for the CDCR without commenting on it. Gaultney also refused to comment on it saying he is awaiting the response from Brown's headquarters. "I simply want a chance to serve my country," said Oberoi currently works as an instructional aide in the Folsom Unified School District and comes from a defense family.
He said he had worn gas masks on more than a few occasions in his 26-year career as an Indian naval officer and nine years as a ship captain. He confirmed that he kept his beard tied, not free-flowing, which he said posed little hindrance to wearing a mask. In the two years since the ruling, the Sikh Coalition and Oberoi's attorney, Harmeet Dhillon, assert that the AG's office has vigorously defended the CDCR, which has not yet permitted Oberoi to work in the state's prison system. A second case was filed in state District Court in August 2009, which seeks $200,000 in back pay and punitive indemnity. Dhillon contended that Brown has unflaggingly impeded the advancement of this case.