The Sikh Collection Initiative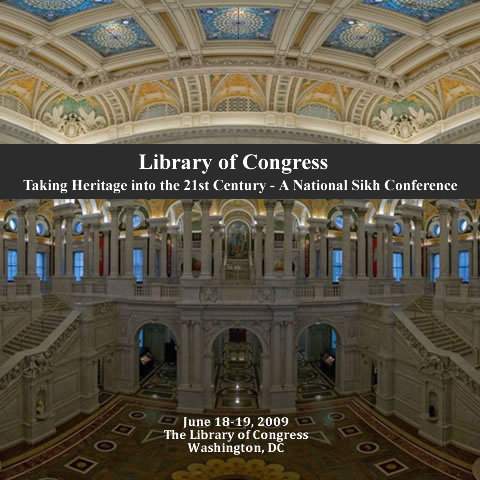 Mark your calendars- the
Kaur Foundation
and the
Asian Division
of the
Library of Congress
have teamed up to undertake a unique initiative, to institutionalize knowledge by and about the Sikh community for future generations.  The Library of Congress is the oldest federal cultural institution in the US, the largest library in the world, and the research wing of Congress. (
LOC
).  The
Sikh Collection Initiative
is an effort to ensure that knowledge of and by Sikhs is collected and preserved for future generations. Given the tragic
loss of valuable cultural and religious artifacts, manuscripts, and books from the Sikh Reference Library
in the Darbar Sahib complex during Operation Bluestar, an initiative such as this begins to ensure that collective knowledge of our community will be preserved somewhere.
As our nation grows and becomes more diverse, it is critical that we appreciate and understand the different backgrounds of all that make this country great. Sikh Americans have significantly contributed to every field of human endeavor from technology, commerce, health, science, agriculture, to the arts – further enriching the cultural fabric of this land of immigrants.
This initiative promotes and builds a progressive understanding of the Sikhs, for fellow Americans, through the expansion of subjects that define and celebrate a community's heritage and roots. The Sikh Collection will become a permanent resource to help gain a better understanding and insight into our achievements, history and traditions. [link]
A number of events are being held to kick off and highlight this new Initiative including a 2 day conference on June 18th and 19th ('Taking Heritage to the 21st Century'), a photography exhibit titled "A Journey," and book launch of  "Empire of the Sikhs,The Life and Times of Maharaja Ranjit Singh" by Patwant Singh and Jyoti Rai.
Kicking off the conference on June 18th will be members of the Nishaan magazine team, and a session highlighting achievements of Sikh women in art, featuring the Singh Twins- Amrit and Rabindra-  and Arpana Caur.  June 19th will begin with discussions of Maharaja Ranjit Singh, his son Duleep Singh, and Sikh Royal Artifacts in the UK's Victoria and Albert Museum featuring authors F.S. Aijazuddi, Navtej Sarna, and the curator of the V&A exhibit, Susan Strong. 

The final session of the conference features Sikhs who have been succesful in business, other professions, and a discussion on the importance of Sikh chairs (see schedule below or click on agenda at left for larger image and details).
A sampling of books that will  begin the Sikh Collection Initiative in the Library of Congress is forthcoming (and will be posted when available).
If you're in the DC area on June 18th and 19th, or able to get to DC, this will be worth your while.  Register here.
Schedule of Events:
June 18, 2009
The Library of Congress, Jefferson Building
10 First Street, SE Washington, DC 20540
The Sikh Collection Initiative Book Launch: 'Empire of the Sikhs' By S. Patwant Singh & Jyoti Rai & 'A Journey' A Unique Photography Exhibit

Welcome Address by the Chief of Asian Division, Library of Congress
Mr. Peter Young at 1:30 PM

'Portraits of Courage'
Pushpinder Singh, Exec. editor Nishaan Magazine & Dr. Ken Robbins at 1:45 PM

'Achievements of Extraordinary Sikh Women in Art'
Arpana Caur, renowned artist, activist; The Singh Twins, Amrit & Rabindra, Artists of international standing, authors, at 2:30 PM
Reception: Thursday, June 18, 2009 At 7:00 PM
Attire: Black Tie or Traditional
June 19, 2009
Morning Session:

Madison Building
9:00 AM – 12:30 PM
Enter the Maharaja…

'The Court of Lahore', Maharaja Ranjit Singh, F.S. Aijazuddin, Author, Honorary British Consul, Principal Aitchison College, Lahore at 9:45AM
'Sikh Royal Artifacts', the V&A Museum Collection Susan Stronge, Author, Senior Curator in the Asian Department at 11:00 AM
'Life & Times of Duleep Singh,' Navtej Sarna, Ambassador to Israel, Author & Christy Campbell, Author at 11:45 AM
Afternoon Session:
1:15 PM – 4:45 PM
Connecting the Continents…
'Scaling New Heights', the professional and entrepreneurial role and contributions of Sikh American industry leaders & CEO's,  Mr. Jagdeep Singh, CEO Infinera; Mr. Daya Singh, CEO Akal Security; Mr. Kanwaljit Singh, Gates Foundation; Mr. Ranjit Singh, Deloitte at 1:30 PM

'The Importance of establishing Sikh Chairs in Universities,' Dr. G.S. Mann, Chair UCSB; Dr. Paul Taylor, Smithsonian Institution; Dr. I.J. Singh, Author & Professor, NYU; Ms. Ajeet Cour, Writer at 2:30 PM

'Enriching the fabric of American Society since 1899… a vision for tomorrow.' Mr. Sonny Caberwal, Model, Entrepreneur & Attorney; Ms. Arpinder Kaur, Pilot; Mr. Ranjit S. Rangar, Architect; Mr. Hargobind Hari Singh, Guitarist & Singer at 3:45 PM
SikhNet Email Lists:
Over 33,000 Sikhs all over the world enjoy SikhNet emails. Select the emails you would like to receive.