Tuesday, May 08, 2012 - London: An Indian boy has become the world's youngest master of Gatka.
While most of his friends enjoy a spot of cricket, Manpreet Singh loves nothing more than sitting back and having a coconut cracked on his forehead with a baseball bat.
The ten-year-old also laughs in the face of a terrifying stunt, which could leave him blind as fluorescent light tubes are smashed across his chest, sending shards of glass flying into his eyes, the Daily Mail reported.
The young Punjabi is a member of the Bir Khalsa Sikh Martial Arts Group in the Punjab city of Amritsar, which performs extreme stunts including being run over by cars and training with swords and spiked maces.
After rushing home from school each day, Singh practices his martial art with dedication - although he does still find some time to play cricket and cycle.
Manpreet's uncle, Kamaljeet Singh, is the leader of the martial arts group.
Singh says he is happy to let the children play with daggers and swords as he claims it is not dangerous if they are properly trained.
As for Manpreet, he says his coconut-smashing feat is by far his favourite.
Gatka is a style of stick fighting associated with the Punjab region passed down from generation to generation which only Sikhs are allowed to perform.
The discipline, used successfully by the Sikhs throughout the 16th and 17th centuries in battles against the Mughal forces, is based on the correct use of a vast array of hand-to-hand weapons.
Most gatka groups train in a religious or semi-religious situation, such as in a gurdwara or in a Sikh cultural centre or school.
It is considered to be spiritual as well as a physical exercise. (ANI)
--------------------------------
Related Story:
9-year-old martial arts prodigy eyes Guinness record Vikas Kahol | Mail Today
Chandigarh, May 8, 2012: A nine-year-old boy in Punjab is set to become the youngest expert performer of Gatka -- a traditional martial art of the Sikhs. During the process, he would also be able to claim the distinction of being the toughest boy of his age as he would have to endure more than two dozen coconuts cracked on his forehead with a baseball bat.
The boy, Manpreet Singh, who studies in fourth standard at a school in the border town Taran Taran, is a member of Bir Khalsa Gatka Dal, an organisation that recently got recognition by the Guinness Book of World Records for a stunt. The members of Bir Khalsa Gatka Dal have been trained to perform extreme stunts, including performances with swords and spiked maces.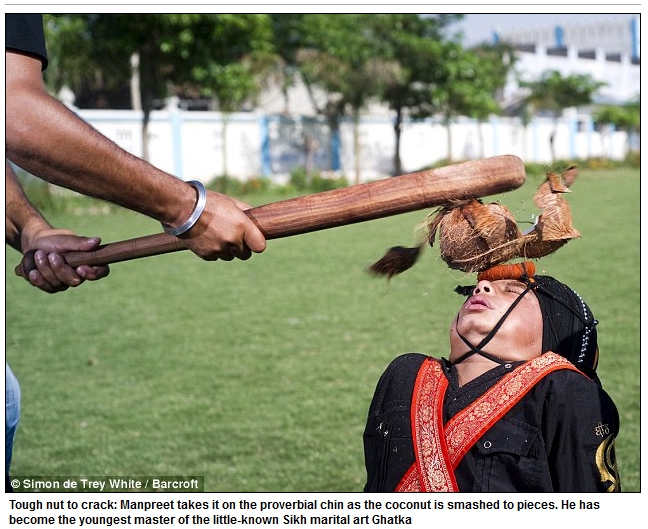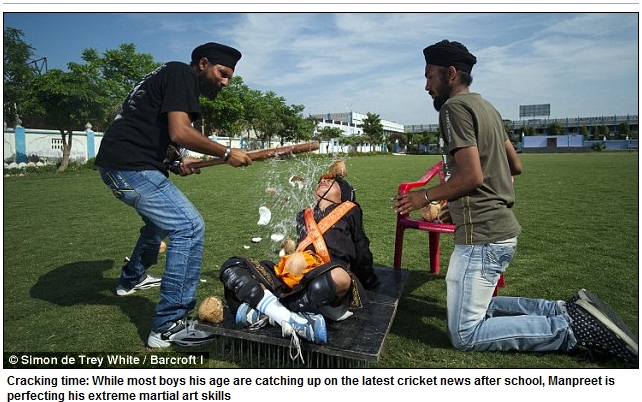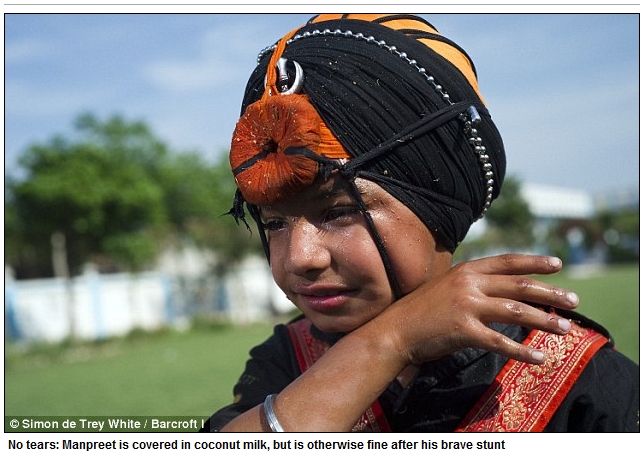 The group reinvented the Sikh martial art from the time of the sixth Sikh guru, and one of its members, Guru Hargobind, was second runner-up on India's Got Talent in September 2010. The performance bagged the top position in a similar contest on another channel last year.
A seven-minute video of the group's performance in Hyderabad had also become an internet sensation. It got over 64 lakh views within four days after it was posted across Chinese sites Youku, Tudou and Sina Weibo. Manpreet was the youngest performer at both the shows.
After following a strict training schedule, Manpreet is now able to do death-defying routines, such as allowing his uncle and trainer Kamaljit Singh to shatter tubelights on his chest. "I want to set a Guinness record as the youngest boy for my performances and stunts," Manpreet said.
The young boy also nurtures an ambition to promote awareness against drug abuse in Punjab, while motivating other children of his age to take up traditional sports and martial art.
"Everyone tells I am too young for performance and launching movement against social maladies. They all underestimate me. I want to go to England after completing studies to promote the art," he said.
Manpreet is also scheduled to participate in a talent-hunt programme in Czechoslovakia in central Europe in July.
The boy's father Harinder Singh, a journalist with vernacular newspaper Ajit, said that Manpreet started learning the basics of the Sikh martial art when he was only two years old.
"He accompanied his uncle Kamaljit Singh to local performances. The uncle got him an outfit of martial arts performers. Since then, he did not look back," said Harinder. His performance has even motivated several youth to take up the sport.
Kawaljit, a 31 year-old leader of the group managing a computer and phone repair shop for livelihood, said that he took over from founder of the group Amarjit Singh in 1996. He attempted to innovate and added new acts to the traditional art.
"This attracted several young men to sport and shun drugs. But, Manpreet is our hero," he said. "My nephew has brought us laurels."
Kawaljit added: "We are not imitating the martial art. Unlike WWE, it is real. Our swords have sharp edges. They sometimes hurt too."
Watch Manpreet Singh perform: