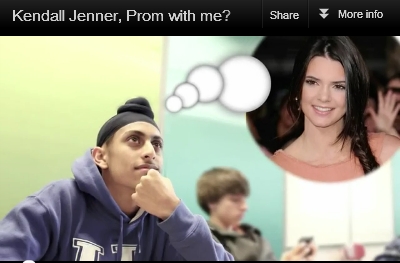 Though it might not seem like it, this story of rejection actually has a happy ending!
Michigan teen Balraj Singh recently asked Kendall Jenner to be his prom date by making an adorable YouTube video. Due to her busy schedule, the 16-year-old model had to regretfully decline. Though she did say no, Kendall direct messaged Balraj on Twitter to break the news to him personally. How sweet!
Celebuzz contacted Balraj to ask what inspired him to ask her, how he felt when she said no, plus much more!
What inspired you to ask Kendall to prom?
Just a crazy idea one night, and my friends just encouraged me to go through with it!
Are you upset that she said no? What was your first reaction when you heard she couldn't make it?
When I first checked my Twitter and saw the direct message from her, I was so excited! And then as I kept reading, I realized it was a no, but overall I guess you could say I am still pretty satisfied right about now.
KENDALL'S 'FLAVOR' SHOOT


How long did it take to put together the video?
I came up with the idea last Tuesday night, and wrote it all down. I went to school the next day and told my friend about it because he is amazing at editing videos and he was in for the plan. I proceeded to tell more of my close friends and soon we got a little crew together to make the video, and we are here today.
Is there any one else in mind that you want to ask (who isn't a celebrity)?
There was, but she already got asked now [Laughs].
On the flip side, if you could take another celeb, who would it be and why?
I'll probably still say Kendall [Laughs].
How adorable is that?!
Who is your dream celeb prom date?
---------------------------
Kendall Jenner: You Should Go To Prom With Michigan Teen Balraj Singh
Nicole Karlis
Source
Kendall! What were you thinking? This boy poured his heart and soul to you on YouTube and you said no!

Michigan high school student Balraj Singh asked Kendall Jenner to prom – and she said no!

Balraj made the sweetest video for the 16-year-old Kardsahian sister, with his entire high school class — including his teachers –raving about how awesome he is. Now that was ballsy move!

But despite his obvious swagger, Kendall said no in the following statement: "I just saw this video on YouTube and I am so unbelievably flattered!!! Thank you so much for thinking of me,Balraj. While I would love to say yes, my schedule makes it hard for me to plan big trips like that, so I regretfully have to decline :(. But thank you again for that amazing video. Whoever you do end up taking is one lucky girl!!!!"

Kendall! If Mila Kunis and Justin Timberlake were able to fit a Marine Ball in their hectic schedules, you can go to this prom!

You are 16 years old. Aside from your once in awhile modeling gigs, what else could you possibly be busy doing? We think you should have said yes and enjoyed prom like a regular high schooler.

Hey Baraj, if you're still looking for a date, us HollywoodLife ladies would be happy to accompany you!