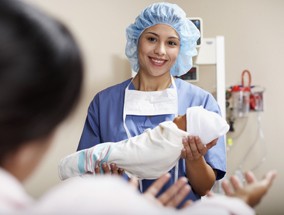 Credit: Corbis
A Sikh baby name can honor family traditions.
Picking the right baby name is never easy, but with the right resources, Sikh parents can find a name that honors their religious and cultural traditions. Sikh baby names are uncommon in the United States, so if you're hoping to give your child a Sikh baby name, online resources will help. Here are a few sites to get you started.
About.com
:
This site offers a comprehensive list of Sikh baby names by letter, and is one of the best resources for understanding how Sikh baby names are selected.
All girls' names end with Kaur, which means princess, and all boys' names end with Singh, meaning lion. This tradition in Sikh baby names was intended to reduce the prejudice in India created on caste-typing based on the family name and to show equality between men and women.
The traditional method for picking Sikh baby names involves selecting a
hukam
, or random verse from the Guru Granth Sahib. The first letter of the name should match the first Gurmukhi letter of the verse. About.com provides more information about how to
select the hukam
as well as the
traditional Sikh baby naming ceremony
.
SikhWomen.com
:
Boasting an excellent Sikh baby names list, parents can search this site for a name by first letter in either English or Gurmukhi. Sikh baby names are shown along with useful pronunciation tips and name meanings.
Dictionary of Sikh Names
:
Parents looking for a complete list of Sikh baby names may want to go beyond the Internet, and purchase the "Dictionary of Sikh Names." Dr. Rajwant Singh Chilana, a librarian at the Asian Library, University of British Columbia, Vancouver, prepared this exhaustive reference source to help parents pick traditional Sikh baby names.
Modern Indian Baby Names
:
Since the majority of the Sikh people live in India, Indian websites are a treasure trove of information for those looking for Sikh baby names. This site has a list of the most popular Sikh baby names for boys and girls. Hundreds of names are listed in alphabetical order, along with their meanings. Unfortunately, the site does not provide pronunciation suggestions, which could pose a difficulty for English-speaking Sikh parents.
India Parenting
:
An excellent Indian website, India Parenting lists Sikh baby names with meanings, and shows how many times a particular name has been viewed. Detailed information is available for many of the names, and parents can even see if the name is lucky according to numerologists.
OnlySikh.com
:
This site provides excellent information on Sikh culture, as well as Sikh baby names. Parents can search for names from A to Z or by the first letter in Gurmukhi. OnlySikh.com does not provide pronunciation suggestions, but the Sikh names list appears fairly comprehensive, nonetheless.
Parents Connect
:
While this Sikh baby names list is much smaller than those presented on other sites, it is more manageable for parents and among the easiest for English speakers. Parents Connect lists 123 of the most popular Sikh baby names and provides helpful name pronunciation suggestions, as well as a name rating system to help parents narrow down their choices.