Float generates buzz and significant Sikh awareness; featured Sikh men and women who have dedicated their lives to service and community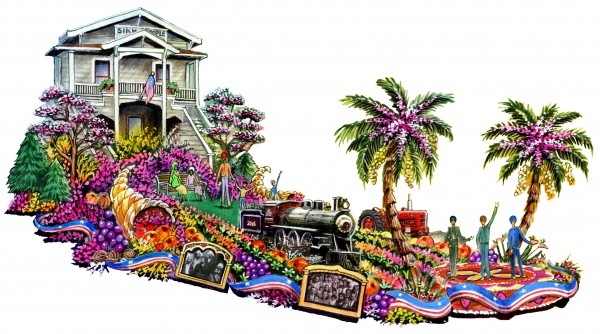 PASADENA, CALIFORNIA (PRWEB) January 06, 2015: On January 1, 2015, Sikh American history was featured on the first-ever Sikh American float during the 127th annual Rose Parade. As a result of a collaboration with the United Sikh Mission, SikhLens, Khalsa Care Foundation, SALDEF (Sikh American Legal Defense and Education Fund), and dedicated Sikhs from around the country, the float highlighted Sikh American values, Sikh history in the United States, and over 125 years of contributions to American society.
Rashpal Singh Dhindsa, founder, United Sikh Mission commented, "We are proud of the float and what it represents. Rose Parade attendees and viewers gained an understanding of the Sikh value of hard work and giving back to the greater community."
The first structure Rose Parade viewers saw was of the Stockton Gurdwara, the first Sikh house of worship that was established in the United States, 102 years ago. The float also included a cornucopia and a locomotive, which represented Sikh Americans who were laborers and farmers in 1903.


    float from Frederick Bourbon on Vimeo.

Americans met 11 fellow Sikh Americans who have dedicated their lives to serving all of America in some way, including men and women who are members of California-based police forces, the national Army, a Boy and Girl Scout, and civil rights advocates. Harinder Kaur Khalsa, deputy sheriff, Alameda County remarked, "It was truly a honor to be on the Sikh float in the Rose Parade. The crowd was enthusiastic and embracing. I made eye contact and smiled with thousands of people in the span of two hours. Although I didn't know any of them, I felt connected to them."
The first-ever Sikh American float was well-received in a variety of mediums, whether it was on Twitter or in-person on the flower-filled streets of Pasadena. Jasjit Singh, executive director, SALDEF comments, "As the oldest Sikh American civil rights organization, in our work we too often see the results of ignorance and bias. It is significant to see American ideals imbued in how the Sikh American float was received at the Rose Parade. All audiences embraced the differences between us and recognized our commonality."
Editor's Note: Contact media(at)saldef(dot)org or 202-393-2700 x 126 for photography, interviews, additional information, and testimonials from Rose Parade viewers and Sikh participants.


The story of Sikhs in America is compelling because it is the quintessential American story. Sikhs came to this country in the late 1800s to make a better life for themselves and their families. [...]
Like every other immigrant community, Sikhs persevered through bouts of xenophobia and discrimination. The first race riots targeting American Sikhs occurred in 1907 in Bellingham, Washington. Despite serving with the U.S. Army during World War I, Bhagat Singh Thind was denied U.S. citizenship because of his ethnicity.
The Sikh community persevered through these challenges and has become an integral part of the American fabric. American Sikhs have made a number of notable contributions to the global society, including the invention of fiber optics, the defense of human rights violations, and the production of world renowned devotional music.
It's time we start telling this story.

.....source

-------------------------
Additional Testimonials
Participating organizations (United Sikh Mission and SALDEF commentary contained in release)
"I am grateful to all the donors who supported the first-ever Sikh American float. Your generosity made this big dream come true.  Their trust and faith in us cannot be overstated. I am humbled by the opportunity to be a part of this premiere to what I hope becomes a great Sikh tradition." Bicky Singh, Founder, SikhLens
Minu Kaur Singh, Sikh American float creative director, "It was a miracle to see the float transcend from an idea to a magnificent reality. For me, every petal resonates a message of community, peace and pride in being a Sikh American. I feel blessed to be part of this historic moment."
"I left everything I knew to come to this US forty years ago in search of opportunity. I have found it, raised my family, and been an active citizen of this country that I call home. As the Sikh Float went by and was received with huge smiles and cheers, I realize that not only do I call it home, but others accept it as my home." Gurdip Singh Malik, Khalsa Care Foundation
Public Response (Obtained on Facebook and Twitter):
Margaret Farenger (to SALDEF on Twitter), "Happy New Year! The float was really cool."
Simran Baidwan, "A Sikh American float in the Rose Parade – AWESOME! And so very beautiful."
Jordan Allen, "Sikh parade and their float says God Bless America. How awesome!"
Susan Kitchens, "The Rose Parade represents safe and happy feel-goodism. The Sikh float was a win in that regard."
Devon Maloney, "I am pretty impressed by the Sikh American float and how it was announced."
APIAs in Historic Preservation statement, "Congrats to all who worked so hard on the Sikh Float in this year's Rose Parade. Did you see the Stockton Gurdwara on top?"
Testimonials from Other Sikhs on the Float
(in addition to Harinder Kaur Khalsa, quoted in the release)
Bhupinder Kaur, lawyer and civil rights advocate, California, ""It was someaningful to see how well the spectators responded to our float. People were really happy, smiling and waving to us, and quite a few of them shouted out a Sikh greeting -- Sat Sri Akal. It was an overwhelmingly positive experience, and I feel like we touched countless hearts and minds."
"The Stockton gurdwara was our cornerstone, our home," said 27-year-old Harjus Singh Sethi, a film student at Chapman University in Southern California. "It's a fantastic story, and that's what we wanted to do with this parade — to show we are Americans."
"I felt honored to be able to stand on the first Sikh American float and represent my Sikh community in the Rose Parade. I was blown away by the support the crowd had given us when our float was going by. They were clapping, cheering, and giving us thumbs up as the float went by."Amandeep Singh, Cadet
"It was a moment of my life which will be un-forgetful. From the time offirst seeing the float to getting on the float to then being part of the parade, I was in awe. This experience truly proved to me that as Sikhs, the attitude of optimism (Chardi Kala) is engrained in us, no matter how many hardships come our way!" Arpinder Kaur, first turbaned Sikh American pilot
"Hard work, honesty, and sharing are qualities and values that Sikhs embodied when they first came to America and continue to do today. I saw this in every float rider. Every single one of us represents Sikh values but expresses themselves uniquely in terms of career and ambition." Manveena Kaur, Girl Scout
I have been giving presentations at local schools in an effort tointroduce Sikhs to our neighbors. Sometimes I have had an audience of 10 kids and other times an audience of up to 50 kids. I am honored to be a part of the organizing around the Sikh Float at the Rose Parade because I was able to educate millions of people about the Sikh image."Bhajneet Singh, Khalsa Care Foundation
Community Members Who Saw the Float at the Parade
"Every Sikh on the float was waving and looked so happy!  I hope that one day I can be on a float at the Rose Parade!"  --- Gurdaas Singh, young Sikh boy from California
"We rang in the New Year with all of America this year as we proudlywatched the first ever Sikh float take part in the Rose Parade in Pasadena, California. In the days before, my family and I volunteered to help decorate the floats and watched the construction of the float, petal by petal. I gained a real appreciation for the detail, intricacy and creativity of all the floats in the parade. The Sikh American Journey float captured elements of Sikh contributions to the fabric of America in particular the railroad and farming industry. I felt connected to the early Sikhs settlers who came to the US to earn an honest living like my own family, and who stood true to Sikh values and identity. The float was a tribute to those Sikh immigrants who established the roots for future generations to flourish in the US. I felt proud to be a Sikh and an American!" ------ Natasha Kaur