September 19, 2012: How do we create positive change out of a devastating loss? Today, a subcommittee of the U.S. Senate Judiciary Committee is scheduled to hold a hearing on hate crimes and domestic hate groups. The event stems from the tragic massacre last month at a Sikh temple in Oak Creek, Wisc. What we need to recognize is that the hearing, and the threat of hate violence, affects all of us. As my friend Raman Singh from the Sikh Coalition said, "we need to get out of the 'Sikhs aren't Muslims' mindset and focus on something that affects all Americans: hate crimes."
Growing up in Long Island in the 1970s, I was raised to wear a bindi as most traditional Hindus do." When I was a bit older, A young man yelled "dot head" at me while I was walking in the mall, which prompted me to be selective, perhaps scared, about when and where I wear my bindi. My Dharmic brothers from the Sikh community cannot switch so easily between cultures — and have been objects of hate crimes that don't just denigrate, but take lives.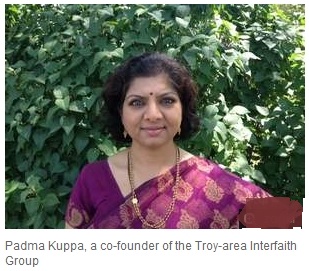 We must use this opportunity to address the hate that still rages in our society and move beyond intolerance. There are stories like this through out our shared American history: Japanese Americans held in internment camps; nooses hung to remind people that we are not that distant from the Civil Rights era; a Chinese American beaten to death with a baseball bat in metro Detroit when the American automotive industry faced its first serious competition from Japanese automakers; a pig's head used to taunt Arab Americans at a cultural festival; Sikhs murdered in their own house of worship.
This hearing is not just for the Sikh community, but all communities that want to live, work and worship in America without fear. Our civic responsibilities do not end with the Senate hearing. Rather, this serves as an opportunity for all people to engage with one another, examine the hate and extremism within our own society, and implement solutions to end the history of tragedies like the one in Oak Creek.


Padma Kuppa is an IT professional in the U.S. auto industry. She is a co-founder of the Troy-area Interfaith Group, an executive council member of the Hindu American Foundation, an Advisory Board Member of WISDOM, a metro-Detroit women's interfaith organization, and a columnist for Patheos.com.