SARDAR SUPERMAN ANSWERS CALLING
---

Gary Sethi doesn't wear his 'S' on his chest.
He doesn't have to.
As Canada's first sardar fitness trailblazer, the 'S' in this case stands for Sikh, and it is serving this superman's mission perfectly: to stand out and be seen as he calls upon every South Asian to become healthy and fit.
Unlike Clark Kent however, Sethi didn't realise his personal powers until he was well into his 20's.
As the youngest child of South Asian immigrants, Gary struggled to 'fit in', leading to emotional over-eating from the resulting self-esteem issues.
He felt pulled in different directions, Canada to the west and India to the east.
He struggled to negotiate a peace between them. This discord later turned into cultural rebellion and 'partying'.
It wasn't until he found inspiration from his older sister Sonia and her own healthy weight transformation, that he turned the ship around.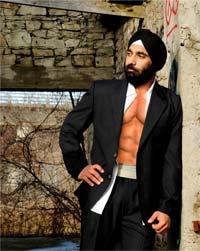 With her guidance, he found a passion for weight training and fitness. Sethi's natural athletic ability found purpose.
Weight training combined with his South Asian sardar identity has allowed him to inspire other Sikhs as he has developed a total body training regime.
Sethi works one on one with individuals to attain first hand, practical experience about fitness, and what it takes to follow a healthy lifestyle.
He strives to maintain the highest standards in developing new and innovative ways to enhance and maintain physical fitness.
With a growing brand name behind him, Sethi recognizes his bigger calling, "It's not about me, I'm just representing our community - the South Asian identity - and it being shown in a positive light to people around the world."
For more information on Gary Sethi visit www.garysethi.ca.