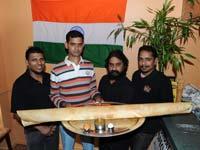 Raj Muttavanchery is planning his next journey.
The professional restauranteur will be walking into the wilderness of Northern India later this summer to discover his first taste of renunciation the spiritual phase in Indian culture that marks the final years of one life.
Though Muttavanchery is still far from the curtain call of his life, he will nevertheless embark with one dhoti, no baggage, no money, and no destination — just setting forth into the unknown and seeking revelation, much like Guru Nanak and countless Indian sages before the first Sikh guru.
Trials such as these, however, are nothing new for the man who left South India on his own twenty-six years earlier to land in Vancouver and build the popular eatery, House of Dosas.
Located on the corner of Kingsway and Knight, The House (as it's affectionately referred to by some customers) is the only place in the city you can pop by at any time of day – it is open 24 hours – and find hot dosas rolling out of the kitchen and a lively cricket match playing on the tube.
And you never know just who may come by. During last year's World Cup of Cricket, Canada's Minister of Immigration Jason Kenney stopped in to watch India versus Pakistan.
The crowd is mixed as only Vancouver can be - go in the middle of any Friday or Saturday night, you will find taxi drivers, late night-clubbers, and shift workers inter-mingling with the staff while re-fueling on South Indian veg delights like idlis, vadas, sambar and of course dosas.
But having built House of Dosas and hosted it's family-like clientele for a decade since 2000, Muttavanchery became restless for his next journey. So two years ago, it went full circle when he made yet another radical departure and shifted his entire family back to Chennai to launch yet more restaurants.
And now today, eight months after he stopped cutting his hair and beard, he is preparing for the next big step into the unknown, days of temple pilgrimages and a spartan existence in the woodlands of the North Indian state of Himachal Pradesh.
"Having travelled so much in my life, I can relate very easily to Sikhs," laughs the ever-jovial Muttavanchery. "They have this pioneering spirit, never afraid to set forth on grand adventures. That's what I am reminded most about now as the local Punjabi community gets ready to celebrate their annual Khalsa Day celebrations."
For a man who has always flourished amidst Canadian plurality and its mix of cultures, it is not surprising that this Christian-by-birth cricket-fanatic sees the universal truths of different faiths as something to embrace rather than ignore. For countless years, Muttavanchery and his staff at House of Dosa's have participated in the Vancouver Khalsa Day parade by setting up a booth and donating South Indian dishes.
For him, the Vaisakhi festival, like Chinese New Year, is a time to celebrate Canadian multiculturalism and for all Canadians and Indians from different ethnic backgrounds to come together and participate.
"We all need to do a better job at opening up the annual Vaisakhi events to outsiders," he said, noting that not everyone is as intrepid to participate on their own. "The solution is very simple – everyone from our Punjabi community should bring one non-Punjabi or non-Indian guest." "It will open up this great event to a journey our city is ready to take."