August 20, 2012: NORTHEAST COBB – In the wake of a mass-shooting at a Sikh temple in Wisconsin, as well as several recent acts of arson or vandalism against Islamic mosques, representatives from six religions gathered in northeast Cobb Sunday for an interfaith discussion.
Followers of the Sikh, Islamic, Baha'i, Jewish, Pagan and New Thought Christian faiths engaged in an 1 ½ hour panel discussion before 35 people at the One World Spiritual Center, 3535 Shallowford Road. The discussion will be broadcast on an Internet radio show next week.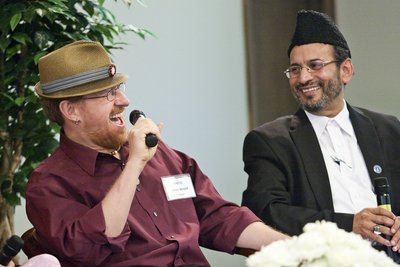 Gary Arnold, left, representing the Pagan tradition, laughs as he jokes with Nafis Rehman, representing the Islamic tradition, during the interfaith panel discussion at One World Spiritual Center in Marietta on Sunday.
Photo by Jon-Michael Sullivan
Speakers emphasized that their religions had more in common than differences, with each using a written scripture that leads to different interpretations of the religion's philosophy. They agreed that a rise of fundamentalism and bigotry posed challenges.
"I believe there is a rise of fundamentalism in the world right now as almost an act of balancing the rise of discussions like this," said the Rev. Stephanie Seigh, who represented One World. "I believe the openness, the oneness, the love and appreciation for one another's paths, the similarities and the differences. I believe they offer less certainty in the world than a purely fundamental interpretation of these paths. I think right now people are yearning for certainty, and something simple and easy to believe in."
Seigh, who opened the event with a blessing calling for people to become "fully present to the spirit of God," said that she believes that the answers are not always so easy. Iraj Khodadoost, a member of the Baha'i tradition, who believes that science and religion must work together, blamed unfounded superstitions in religion for driving fundamentalism.
"If Muslims believe that Imam went to the bottom of the well and he's still waiting there for 1,200 years, and he'll come back in the same body to save human kind, obviously, this is unfounded superstition," he said. "It does not agree with science. These kind of superstitions destroy the human mind."
Nafis Rehman, an Ahmadiyya Muslim, said his sect was the first in Islam to renounce terrorism and violence.
"We do not retaliate, we pray for every person who has aggression against you," Rehman said. "If someone disrespects the prophet Muhammad, that is between him and the creator…People who have misinterpreted (Islam) are creating all kinds of problems in the world."
Gary Arnold, a Wiccan Pagan, said his religion has roots in tribal cultures and is based in nature.
"In Wicca, we stress responsibility," he said. "Don't let anybody do your thinking for you. I think that's what our path brings us as a counterbalance to extremism."
Dr. Steve Chervin, a follower of Conservative Judaism, called fundamentalism the "scourge of the modern world."
"I think it is up to people like us to counteract that in a strong way," he said.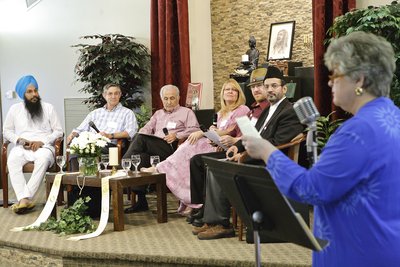 Rev. Sydney Magill-Lindquist, right, reads a question during an interfaith panel discussion at One World Spiritual Center in Marietta on Sunday. On the panel were, background from left, Preetpal Singh, representing the Sikh tradition; Dr. Steve Chervin, representing the Jewish tradition; Iraj Khodadoost, representing the Baha'i tradition; Rev. Stephanie Seigh, representing the Christian tradition; Arnold and Rehman.
Photo by Jon-Michael Sullivan
Sikh Preetpal Singh said fundamentalism is based in the inherent greed of human beings.
"In my opinion, anybody who violates anybody's right to live or express himself is violating the religion he expresses to be practicing," Singh said. "When you take a position of fundamentalism, you do not belong to any religion."
Singh's temple in Roswell recently hosted a memorial service for the six victims of the Aug. 5 shooting at a Sikh temple in Oak Creek, Wis. But he also asked for prayers for the gunman in the case, Wade Michael Page, who later killed himself. Page had been involved in neo-Nazi music that promoted hatred toward people of different backgrounds.
"In our scripture, life is a gift," Singh said. "If somebody is wasting it like that, we can only pray."
The discussion had actually been planned months before the shooting, said the Rev. Sydney Magill-Lindquist, who hosted the forum. It will be broadcast at 8 p.m. Aug. 27 on www.blogtalkradio.com, as part of the Open Minds Open Hearts radio show she hosts with her husband, author and crime prevention practitioner Scott Lindquist.
"Something has happened that people are interested in interfaith, and our radio show introduces people to people of different faiths," Magill-Lindquist said. "