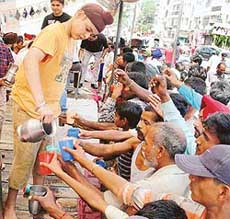 Jun 13, 2012 - GURDEV NAGAR: Carrying forward the message of Sikh gurus who taught compassion, love, dedication, hard work, worship of one God and commitment to peace and harmony for all the people of the world, the Kukrejas of Gurdev Nagar were busy preparing for the martyrdom day of Guru Arjan Dev and do their bit for the society. The family not only organized a 'chhabeel' (sweet water distribution) but also distributed free CDs related to Sikh religion among the commuters.
"We organize a 'chhabeel' every year, and this time we decided not only to carry forward this tradition but also set up a special counter for books and CDs related to the Sikh religion," said, Harjinder Singh, 26, who is also the owner of a bakery shop in city.
His 16-year-old cousin Subegh Singh, who is a resident of Sarabha Nagar, said, "When someone serves you chilled sweet water with love in this heat, it truly leaves a lasting impression. Harjinder's idea of distributing CDs was a hit as there were many people who appreciated the gesture and took the CDs conveying their gratitude."
Kanwalpreet Singh, 24, a resident of Sarabha Nagar said, "It was truly my honour to serve people in this scorching heat. This service to mankind is indeed one of the greatest things about our religion and Punjabi culture where you serve the rich and the poor alike. Our entire family comes turn by turn to serve here."
"It's very hot these days and the 'chhabeel' was a welcome drink to quench thirst. I have also taken two CDs - one of Bhai Taru Singh and the other on rise of Sikhism. In addition, I have taken some books as well," said Savneet Kaur, who works in a production house.
Similar 'chhabeels' were organized by the residents at various places in the city and people serving were witnessed requesting commuters to stop and have the sweet water.