The art of Tanjore Paintings originated in Tamil Nadu.  This ancient art was patronized by the rulers of Tanjore and was at its best during the rule of Marahattas.

The art which had almost become extinct, was revived in 1960s by Mrs. Meena Muthiah (Daughter-in-Law of Rajah Sir Muthiah Chettiar, the Rajah of Chettinad) who learnt the art from the only surviving Master of the time.  Tanjore Paintings are very elegant and are sought-after by the lovers of the art worldwide.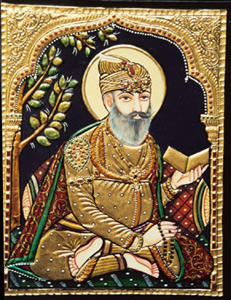 In Tanjore Paintings, Pure Gold Leaf, Pure Gold Dust, Precious/Semi-precious Stones, Vegetable dyes in basic colours, and Arabic gum are used.  Due to highly intricate and artistic work involved, the paintings take very long time to complete.

The themes are usually based on religion and very rarely any other topic is considered.  Traditional paintings normally depict Hindu Deities like Lord Krishna, Lord Ganesha, Lord Venkateshwara, Goddess Meenakshi, etc.The exquisite Tanjore paintings will now adorn Sikh Gurudwaras and museums across the country.

A Madurai-based couple, Amarjit Singh Bamrah and Jagdish Kaur Bamrah are on a mission to introduce the ancient art of Tamil Nadu to different historical/ prominent Sikh institutions in Punjab and other States.

"The response so far has been thrilling. We want to spread awareness of this art form and hence have volunteered to present Tanjore paintings depicting Sikh gurus," Mr. Bamrah told The Hindu.

Paintings of all the ten Sikh gurus have already been taken to the Darbar Sahib (Golden Temple) in Amritsar. Another grand painting of Sri Guru Hargobind has been presented to a gurudwara in Gurdaspur, Punjab.


Mrs Jagdish Kaur Bamrah learned this art with the able guidance of her Teacher Mrs. Kannagi of Madurai  and the other Master Craftsmen of South India.  After learning this art, she made a number of paintings of Lord Ganesha, Lord Krishna in various postures.  Later she experimented and successfully made many paintings of the Sikh Gurus with the able help of her Teacher.  Some of these paintings are very unique and are the only available pieces of art in the world.
Mrs Bamrah has presented a very unique Tanjore Painting of all the 10 Gurus (7 ½ ft x 2 ft) to Darbar Sahib (Golden Temple, Amritsar) for permanent display in the Sikh Museum.  One more Grand Tanjore painting of Sri Guru Hargobind Ji has been presented to Gurudwara Gufa Sahib at Aulakh in Distt. Gurdaspur.

To spread the awareness of this art form in Punjab and Northern Part of our Country, Bamrah family has volunleered to present Tanjore Paintings of the Sikh Gurus to the Historical Sikh Gurudwaras / prominent Sikh Museums.
UPDATE:
 
Regarding our mission to present Tanjore Style Paintings to the Historical Gurdwaras . We are  pleased to inform you that with Waheguru Ji's blessings, we have now presented  a very grand Painting of Sri Guru Gobind Singh Ji  (46 inch x 38 inch size ) to Sachkhand Sri Hazur Sahib. Pure Gold Leaf, Semi-Precious Stones, diamond embelishments and vegetable colours were used in making this unique work of art.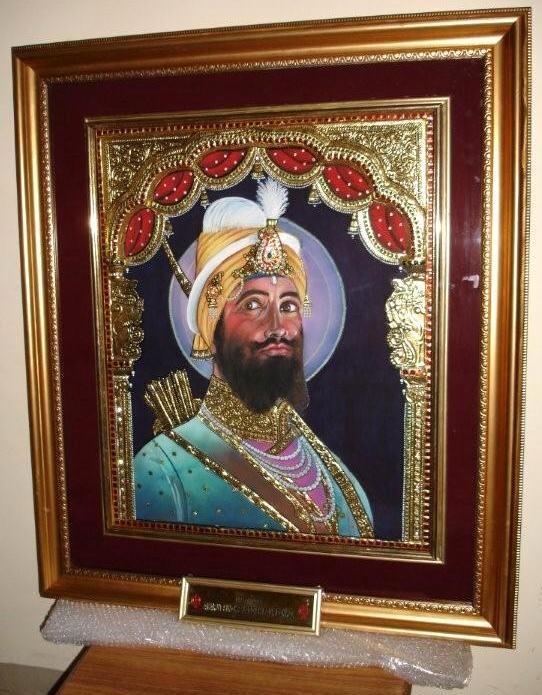 The Painting was handed over to Dr.  P.S. Pasricha Ji , Chairman - Administrative  Committee , Takhat Sri Hazur Sahib on 19th August 2009. Both Singh Sahib Giani Kulwant Singh Ji , Jathedar - Sri Hazur Abchalnagar  Sahib and Dr. Pasricha has very much liked the Painting and have complemented us. They have assured us that the Painting will be installed at a prominent place so that all the devotees visiting Sachkhand Sri Hazur Sahib can have the Darshan of this unique work of art.

We are now in process of  making Tanjore Paintings  of  Sri Guru Nanak Dev Ji , Sri Guru Hargobind Ji, Sri Guru Har Krishan Ji, Sri Guru Tegh Bahadur Ji  & Sri Guru Gobind Singh Ji for presenting to  Delhi Gurdwara Prabandhak Committee. The five Guru Sahibian mentioned have blessed Delhi with their visits and have historical shrines in the capital.

For further enquiries, you are welcome to contact.
Mrs Jagdish Kaur Bamrah                  
Mobile  PhoneNo. :  09980 140 156  &  09880 137 156
Email:  [email protected]