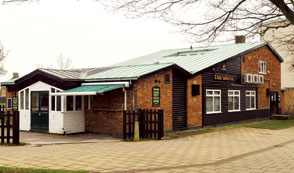 The building formerly used as The Grove pub
Plans to turn a former Cambridge pub into a Sikh community centre have been submitted.
Cambridge Sikh Society wants to use The Grove in Arbury Court, which closed in September after it was the site of three assaults in a single night, as a place of worship.
A consultation is now under way and the Campaign for Real Ale is unlikely to object, according to Paul Ainsworth, pubs officer for the Cambridge branch.
He said: "We tend to object if we feel a pub is valued and well-regarded, and has potential to live again, and with The Grove I don't have the sense that a lot of people are going to want to fight to keep it as a pub.
"While we're always very sorry to see any pub go we have to be realistic and concentrate on pubs which we feel are well worth saving and where we feel there's a good chance to success."
The News reported in January that Greene King would not reopen the pub and was negotiating to sell it to the Sikh society.
The application said there have been "no other serious bids" for the property.
It said the society's current arrangement, under which it rents rooms in Arbury Community Centre, in Campkin Road, was unacceptable.
The application said: "The consumption of alcohol and non-vegetarian food is contrary to the tenets of the faith and at times the community centre hall has smelt strongly of alcohol due to the prior event that was held there.
"This is an unacceptable setting that members have had to endure."
The application said the new community centre would be open between 7am and 11pm daily, but with most activity taking place between 9am and 5pm.
Services would be held daily, including one attracting up to 60 people each Sunday, plus celebrations of festivals and private ceremonies such as weddings.
Events for the wider community such as yoga classes and interfaith forums will also be hosted.
The application said: "A dedicated facility for the Sikh community should exist in a city of Cambridge's profile and diversity."
A Greene King spokesman said: "We can confirm a deal has been reached to the sell the pub subject to the buyer being granted planning permission for change of use."