Passion of Sikh lawyer ensures safe release of prisoners from Pakistan.
Yesterday after almost five years 179 fisherman and four others were released from the Central Jail-Lahore.
This is an iconic victory for Sikh man Satinder Paul Singh, whom his family did not even know was alive until the intervention of a British lawyer. The other prisoners released were Sanjeet Kumar, Nasim and Sama Yousaf
All the prisoners had served their sentences but were not being released, but yesterday they safely crossed the Wahga Border at 6.00 p.m
Despite the letter from the Ministry of Foreign affairs of 30th December 2011 naming six prisoners release two prisoners namely Sakhi Muhammad and Bhavesh Kanti Parmar were not release for unknown reason.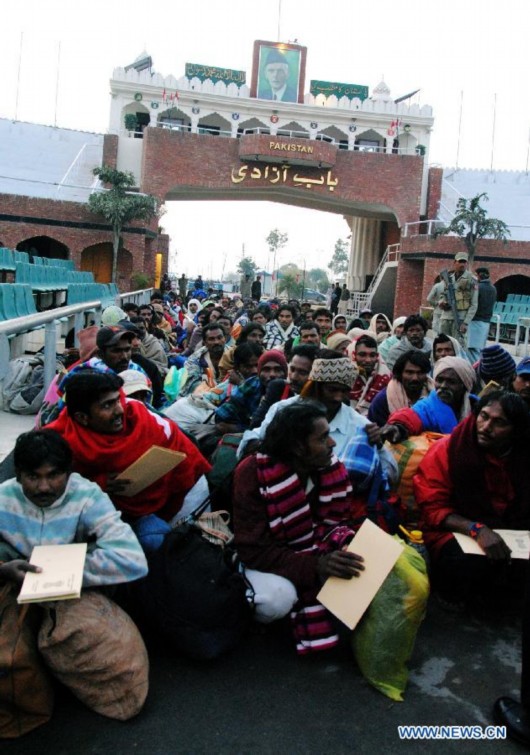 Released Indian fishermen wait for immigration clearance at Wagah Border in eastern Pakistan's Lahore,
on Jan. 8, 2012. Pakistan released nearly 179 Indian fishermen and another Indian citizen
on Saturday from a prison in the southern port city of Karachi, a state-run television reported on Saturday.
A passionate Sikh lawyer and human rights activist Jas Uppal first became involved in the cases of Mr Satinder Paul Singh and Mr Bhanudas Vitthale Karale and the Other 30 Indian Prisoners, she said
"I received a recording of an interview with Mr Gulab Singh an Indian national who was released by the Pakistani authorities in August 2011.
"Mr Gulab Singh was interviewed by Mr Neeraj Sharma, who is a senior journalist with the 'Punjab Kesari' immediately after Mr Gulab Singh crossed the Wagha Border into India following his release.
"Mr Gulab Singh produced two letters; one from Mr Bhanudas Vitthale Karale and the other from Mr Satinder Paul Singh both letters were pleading for help to secure their respective release. Mr Neeraj Sharma forwarded both of the letters and the video recording of Mr Gulab Singh's interview to me.
"Mr Satinder Paul Singh's letter did not contain his family's address in India whereas Mr Bhanudas Vitthale Karale did.
"I wrote to Mr Bhanudas Vitthale Karale's family and urged them to forward documents verifying Mr Karale's identity and advised them to contact various Indian authorities to alert them to the fact that Mr Karale was unlawfully detained in Kot Lakphat Prison, Lahore Pakistan. I also advised them to contact Mr Neeraj Sharma in India.
"Mr Karale's nephew, Nitin Karale contacted me and Mr Neeraj Sharma. Nitin confirmed that they thought that Mr Karale had passed away! I understand that Mr Karale is suffering from mental health issues and has a history for leaving his family home address for periods of time before returning. Only this time Mr Karale did not return. Accordingly, he was presumed dead.
"Nitin Karale immediately arranged to forward the documents verifying Mr Karale's identity to me. These were e-mailed to the Indian Embassy in Islamabad Pakistan as well as the Indian authorities.
"It took a little longer, however thanks to my friends in India; I established direct contact with Mr Inderjit Singh, the brother of Mr Satinder Paul Singh.
"Mr Inderjit Singh immediately arranged to forward documents verifying Mr Satinder Paul Singh's identity. Once again, these documents were copied to the Indian Embassy on Islamabad as well as the Indian and Pakistani authorities.
"I received confirmation from the Indian authorities that now that they are in receipt documents verifying the respective identities of Mr Bhanudas Vitthale Karale and Mr Satinder Paul Singh, they were confident that both men will be released shortly.
"I mentioned these cases to Mr Sheikh. He asked me to forward the evidence including copies of the identity verification documents which I did. Mr Sheikh issued a petition in the Lahore High Court annexing and referring to the evidence that I had provided together with the copy identity verification documents in or around October 2011 seeking an Order for these two prisoners to be released.