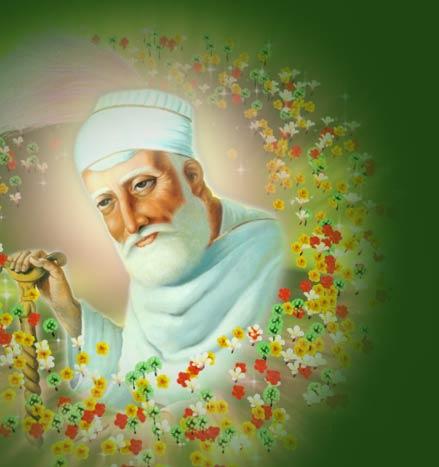 ਘਨਹਰ ਬੂੰਦ ਬਸੁਅ ਰੋਮਾਵਲਿ ਕੁਸਮ ਬਸੰਤ ਗਨੰਤ ਨ ਆਵੈ ॥

ghanhar boond basu-a romaaval kusam basant ganant na aavai.
The raindrops of the clouds, the plants of the earth, and the flowers of the spring cannot be counted.

ਰਵਿ ਸਸਿ ਕਿਰਣਿ ਉਦਰੁ ਸਾਗਰ ਕੋ ਗੰਗ ਤਰੰਗ ਅੰਤੁ ਕੋ ਪਾਵੈ ॥

rav sas kiran udar saagar ko gang tarang ant ko paavai.
Who can know the limits of the rays of the sun and the moon, the waves of the ocean and the Ganges?

ਰੁਦ੍ਰ ਧਿਆਨ ਗਿਆਨ ਸਤਿਗੁਰ ਕੇ ਕਬਿ ਜਨ ਭਲ੍ਯ੍ਯ ਉਨਹ ਜ+ ਗਾਵੈ ॥

rudr Dhi-aan gi-aan satgur kay kab jan bhal-y unah jo gaavai.
With Shiva's meditation and the spiritual wisdom of the True Guru, says BHALL the poet, these may be counted.

ਭਲੇ ਅਮਰਦਾਸ ਗੁਣ ਤੇਰੇ ਤੇਰੀ ਉਪਮਾ ਤੋਹਿ ਬਨਿ ਆਵੈ

bhalay amardaas gun tayray tayree upmaa tohi ban aavai. ||1||22||
O Guru Amar Daas, Your Glorious Virtues are so sublime; Your Praises belong only to You. 

Aap sabh nu Guru Amar Das Ji Maharaj de Parkash Gurpurb Di Lakh-Lakh vaadhaai hove ji.