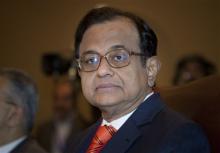 Indian Home Minister P. Chidambaram
New Delhi, Aug. 20: Union Home minister P Chidambaram on Friday assured of all protection to Sikh community people in Jammu and Kashmir following purported anonymous threat letters from extremists asking them to embrace Islam or leave.
"We are aware of the so-called threat but there is nothing to fear. The chief minister (Omar Abdullah) has assured that the Sikh community will be given protection," Chidambaram said in the Rajya Sabha.
Bharatiya Janata Party (BJP) members raised the issue in the Upper House and also forced a brief adjournment.
Sikh community members have reportedly received anonymous letters, asking them to embrace Islam and join the protests in Kashmir or else leave the state.
Informing that the Centre was in touch with the state government in ensuring safety of the Sikhs in Kashmir, Chidambaram said, "Let the House be assured that the state and centre are working together and Sikhs will be protected."
"I got a letter from a Sikh delegation to meet me, I will be meeting them in a few days," he added.
BJP leader SS Ahluwalia, expressing dissatisfaction at the minister's reply, said, "Leaders have come in the past with similar assurances but what happened. We want a convenient atmosphere for the Sikhs in the valley... government cannot give protection to everyone."
The 60,000-strong Sikh community form the single largest minority group in the valley after Hindus fled in the early 1990s when an armed separatist conflict backed by Pakistan erupted in Jammu and Kashmir.
Meanwhile Punjab chief minister Parkash Singh Badal has also urged prime minister Manmohan Singh to take steps to ensure safety of Sikhs in Kashmir.
"I have made contact with the prime minister, Jammu and Kashmir chief minister Omar Abdullah and Union Home minister P Chidambaram on the issue of safety of Sikhs in the bordering state," he told reporters in Patiala.