Movie worth watching, now in Yuba City
Sadda Haq (Our Right) is most awaited Punjabi Movie of 2013 and it deals with the tragedy of Punjab which happened in 1980's and early 90's. It portrays the story of a hockey player Kartar Singh Bazz who joins militancy. It is based on real life facts like; why the main character of movie Kartar Singh joins militancy and why thousands of youngsters choose the path of confrontation with the establishment.
In 1980's one of main political party of Punjab state launched a peaceful agitation for more rights and autonomy for Punjab state, but people's rights were heavily suppressed and censored by India's federal government at that time, including Army was used to suppress the agitation which lead to violent uprising by youth and resulted in loss of thousands of lives of innocent Punjabis and there was collateral damage on both sides and widespread human rights abuses. Youth suffered the most.
This movie faced very strict scrutiny from the Censor Board of India but the tenacious makers of the movie presented their pleas based on the strong historical facts and also received strong support from many organizations and eventually it was given clean chit. "Sadda Haq" is going to be released worldwide this Friday including at Cinemark Theater in Yuba City.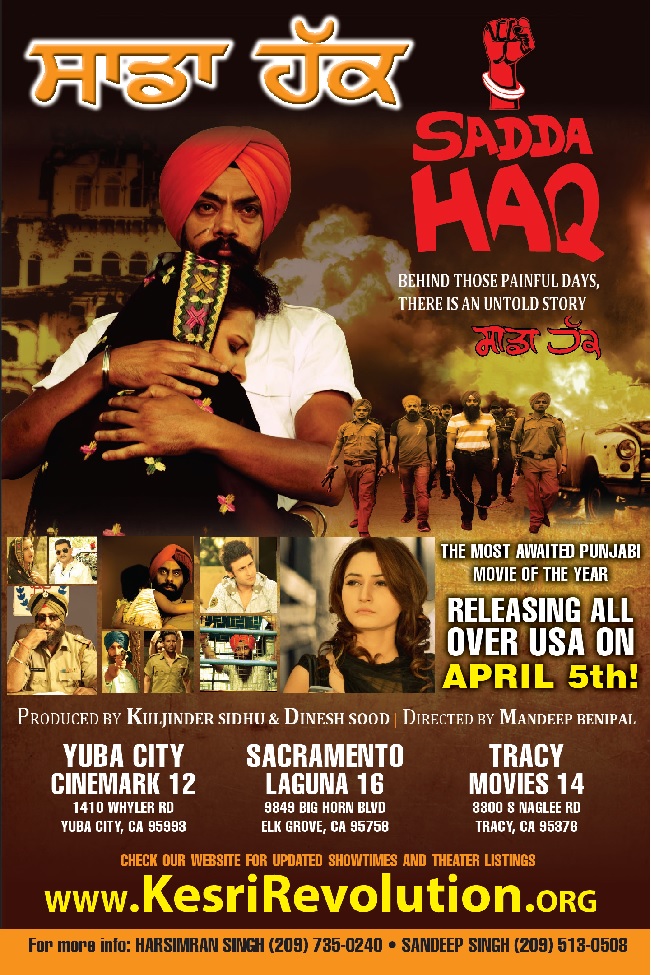 The movie will be running in Yuba City for one week
starting April 5th at the following location:

Cinemark Yuba City 12
1410 Whyler Rd
Yuba City, CA 95993
Show Times: 12:30 PM, 3:45 PM, 6:50 PM, 9:55 PM


Saada Haq
"Sadda Haq" is upcoming Punjabi movie which was to be released in Oct 2012 but was delayed significantly due to censor issue and now after all hurdle and tussle is finally releasing on 5th April '13. Sadda Haq is inspired from some true events and will present the true picture of militant movement in Punjab.



"Sadda Haq" Stars Kuljinder Sidhu, Gaurav Kakkar, Dhriti Sharan, Parmod Moutho, Yaad Grewal, Dev Kharoud among others. "Sadda haq" is directed by Mandeep Benipal and is Written, Produced by Kuljinder Sidhu
Sadda Haq - Movie Details
Release Date: 5th April'13 - Worldiwde
Starring: Kuljinder Sidhu, Gaurav Kakkar, Dhriti Saharan, Parmod Moutho, Yaad Grewal, Dev Kharoud, Dinesh Sood, Amritpal Singh Billa, Sudhanshu Ghor, Talwinder Bhullar, Neeraj Kaushik, Sandeep Kapoor, Nidhi Sidhu, Sunny Gill, Praveen Kumar, Prince JK Singh among other.
Director: Mandeep Benipal
Music: Jatinder Shah
Cinematography: Rishikesh Singh
Editing: Omkarnath Bhakri
Stunts: Darshan Singh Mahal
Story & Screenplay: Kuljinder Singh Sidhu
Producer: Kuljinder Singh Sidhu, Dinesh Sood
Studio: OXL Films
Update: Sadda Haq has been banned for release in Punjab, read complete article. Click here.


Sadda Haq - Preview/Synopsis

"Sadda Haq" a Punjabi movie by OXL Films – is going to be a sensational flick which will be depicting the real picture of Punjab during the militancy days. Adorned with commendable performances from the cast, blended with an awe-inspiring story which is worth telling and seasoned with every other ingredient; Sadda Haq would be a heart-touching spectacle of distressing past of Punjab. This movie is a story of a hockey player named Kartar Singh Bazz whose circumstances weighed down his passion for the game and compelled him to be a militant instead. A star in making, Kuljinder Singh Sidhu, the producer, actor and story-writer of the film makes the film better with excellent portrayal of his character as Kartaar Singh. Yes, quite usually unusual, but still it is a story of many aspiring young people of those times whose desires were encountered with the prevailing circumstances.
Click here to read full Preview/Synopsis
Sadda Haq stills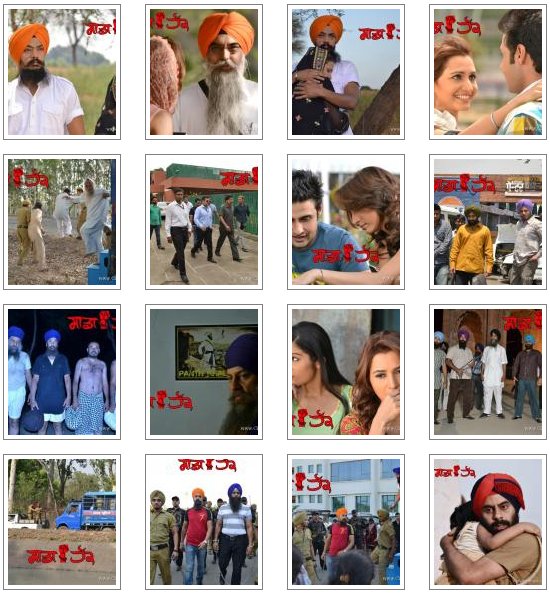 Trailer Videos