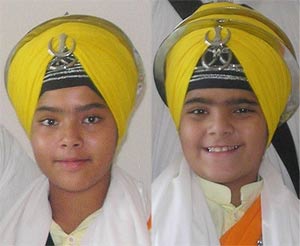 Here at SikhNet, we have been producing audio stories for some time with our Audio Stories Director, Harijot Singh. We have produced dozens of stories of the Gurus, folk stories, and even stories we made up. They all have something in common: they all have a message. We want to give tools to parents to entertain their children while giving them values at the same time. And the stories are not limited to Sikhs, anyone can listen, learn, and enjoy. Most adults are surprised how much they enjoy listening themselves, so the stories are not just for children :) So if you haven't heard them yet, give these stories a chance.... Seriously!
A few months ago, we wanted to see what kind of ideas other talented writers might have, so we launched a script writing competition. We received many submissions and the one we thought was the most appropriate was "Team Khalsa - Save the Langar" written by Japman Kaur and Triman Singh. These siblings had previously won first place prize in the 2009 Film Festival for their film "Kivein Bhullaan - How Can We Forget?"
We have taken their script and produced an accompanying original audio story:
The langar has been stolen by the tricky Mr. Manmukh. It's up to Team Khalsa to get it back. They are a band of siblings with super powers! SuperSikh has strength and control over fire, Wonder Kaur has invisiblity and control of metal, Captain Khanda can fly and control water and also Psychic Singh. But will they be able to resist Mr. Manmukh's traps of Anger and Attachment. Find out what happens!
Congratulations to Japman Kaur and Triman Singh!  Thank you for sharing your story with SikhNet, so now it can be shared with the whole world.  
"Team Khalsa - Save the Langar" - Listen Here