AFTER 60 years, the Sikh community has finally put the south-west's last known Indian hawker's soul to rest.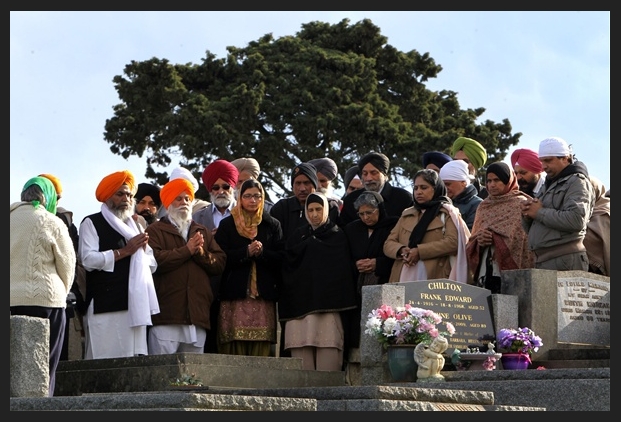 29 Jun, 2012: Aged 76, Dolah Singh died suddenly in 1952 and, although he was highly respected, he never received a traditional Sikh ceremony.
Said to be the last of his tribe to work as a hawker in the region, Dolah was buried in an unmarked grave at Terang cemetery due to public trustees refusing to release money for a headstone.
A group of Terang district locals watched on yesterday and paid their respects as a priest from the Sikh Community of Victoria led a service at his grave, joined by about 40 Indians attending from Craigieburn and Blackburn.
Rajinder Singh Minhas, from Blackburn, said he had been in touch with Florence Charles for the past six months organising the ceremony.
"Finally we made it here," he said.
"It's very important because until this last ceremony, according to our religious beliefs, his soul is not liberated. This is what we had to do."
Priest Harminder Singh recited verses and prayers from the Sikh holy book, the Guru Granth Sahib, while a turban was placed at Dolah's grave plaque as a symbol of honour. Before the ceremony, locals exchanged childhood memories of Dolah and other Indian hawkers who frequented the region to sell wares and goods to their parents and grandparents.
Mrs Charles said Dolah had a special connection to her childhood and lived in a wagon on her grandfather's Noorat property on Pontings Road.
"Dolah came to work in the sugar mills in Queensland like a lot of Indians and drifted down south," she said.
"I think he was the last Indian hawker in this area and he was without doubt the delight of my childhood.
"He was a solitary man; a very lonely but kind man.
"He could be irascible at times and lived alone in his wagon.
"Our dog used to disappear the moment he drove his horse in the gate and stayed under the wagon until he left."