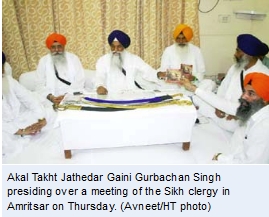 Mulling the issue of caste-based gurdwaras in Punjab, particularly in rural areas, the Sikh clergy on Thursday sent out a clear-cut message to the community that no gurdwara would be constructed anywhere in the country or even abroad in future without the permission of the Akal Takht.
"Anyone who wishes to construct a gurdwara must approach the Akal Takht for prior clearance. No one will be allowed to construct a gurdwara on his own," Akal Takht Jathedar Giani Gurbachan Singh said while talking to media after presiding over a meeting of the five Sikh high priests held in Amritsar on Thursday.
The issue of caste-based gurdwaras was taken up in last Sunday's episode of Aamir Khan's 'Satyamev Jayate'.
Another pre-condition put forth by the Akal Takht was that the piece of land on which the gurdwara was proposed to be built must be in the name of Guru Granth Sahib. Only then would the Akal Takht consider any plea for the construction of the Sikh religious place.
"We will not allow construction of a gurdwara on 'shamlat' (government) land or on land that is in the name of the village panchayat or is the property of any trust or committee. The land must be transferred in the name of Guru Granth Sahib for building a shrine," Giani Gurbachan Singh made it clear after deliberating on the issue with his fellow priests.
"'Manas ki jaat, eko pehchanon' was the message of the Gurus and we all must abide by this," Giani Gurbachan Singh said.
To dissuade construction of Sikh religious places on caste lines, Giani Gurbachan Singh announced that the Akal Takht would honour panchayat of village that had just one gurdwara."A certificate of appreciation will be awarded to that particular panchayat," he added.
On the existing gurdwaras in villages and other places, the Jathedar suggested that panchayats should limit the number of such holy places to one or two, depending on the size and population of that particular village. The vacant places of worship could be utilised as community centres for the welfare of the villagers, he added.
The Jathedar also asked the Sikh community to honour the Akal Takht edict that banned gurdwaras on caste lines. The edict passed last month would be enforced strictly, he asserted. The Jathedar also appealed to community leaders not to distribute funds for construction of gurdwaras on caste lines.
Takht Keshgarh Sahib Jathedar Giani Tirlochan Singh, Takht Damdama Sahib Jathedar Giani Balwant Singh Nandgarh, Takht Patna Sahib Jathedar Giani Iqbal Singh and Giani Mal Singh, a priest of the Golden Temple, participated in the meeting, which also decided to promote martial sports, particularly 'gatka'.
World Gatka Day would be observed every year on a specified date that would be fixed soon.