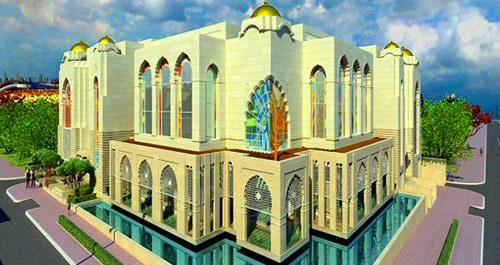 In the gloom and doom of global inter-religious conflict I have a ray of shining light to share. The Islamic owners and rulers of the jewel in the desert - Dubai, in the gulf states of United Arab Emirates, on the sub-continent of Arabia, the heart of Islam, have given permission to the Sikhs to build their 'gurdwara' amongst them!
 
In early 2009 I received information through the email grapevine that a gurdwara was being built in Dubai. I was intrigued. Let us face it, Muslims do not stand in favourable light at present with acts of terrorism,  persecutions and killings of not only non-Muslims but fellow Muslims as well. Ancient Buddhist statues have been demolished by them in Afghanistan. Moderate Muslims and Bahais are fleeing Islamic countries due to persecution. One of my tabla players is an Afghan refugee now residing in my hometown Melbourne in Australia. His family fled with their lives in danger because he comes from a long line of Afghan musicians. His uncle Khalil Gudaz is a proficient sitarist here, slowly gaining national and international fame.
 
Closer to home, we have conflict in Malaysia where fundamentalist Islamic groups are unhappy about their 'law' allowing non-Muslims to freely use the word 'Allah' to refer to God. They feel that that word is exclusive to Muslims and should not be used by non-Muslims. In the process, the mindless fools amongst them have made arson attacks and have burnt down a number of churches and even thrown stones and broken the windows of a gurdwara in Kuala Lumpur. The predominantly Islamic government has not made any comittments one way or the other - further aggravating the situation.
 
In all this negativity about Islam, a new gurdwara in Arabia? I was intrigued.
 
So, it was a pleasant and very exciting surprise last October, when Sardar Surender Singh Kendhari sent me an email inviting us to do kirtan in Dubai for Guru Gobind Singh Ji's Gurpurab (birth anniversary) in early January this year. I recognised the name, because he is the man most responsible for this venture.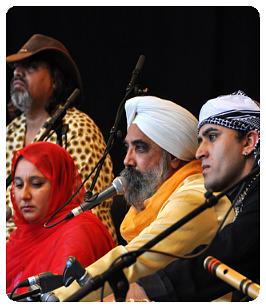 So we did ... and this is what I gleaned from Sardar Kandhari, S. Keval Singh Sasson and other Dubai domiciled Sikhs, about this example of positive inter-religious interaction. It is a very intriguing story.
 
First, a brief history. Up till 1966 Dubai was completely under British protection and the Indian rupee was the currency. That same year oil was discovered leading to a massive influx of foreign companies, including oil companies of course, investments and (mainly) Indian and Pakistani workers.
 
In 1971 the Emirs of Abu Dhabi, Dubai and five other neighbouring emirates joined together to form the United Arab Emirates with its own currency the UAE dirham, and gained independence from Britain.
 
Dubai is only a small sub-emirate within the UAE with Abu Dhabi being the largest but due to the astuteness of the Emir, His Highness Mohammed bin Rashid Al Makhtoum, it began development as a business and tourism hub of the middle-east. It opened the Ali Jebel Free Zone and invited investment with minimum restrictions and red-tape. Today Dubai is called 'the  and business capital of the middle-east'. This has also attracted tourism on a very large scale. It boasts some of the most futuristic buildings and structures in the world. While we were there, the tallest building in the world, the 'Khalifah Burj' was unveiled. Some constructions on reclaimed land, like the Palm (residential) Island, are breathtaking.
 
We visited the Atlantis Hotel which is like a Wonderland and one of the most magnificent buildings I have seen in my life. We also went to the Dubai Mall, the biggest shopping mall in the world which also boasts indoor 'ski'ing slopes'. Yes, snow in the desert  and ski-ing! There is a fantastic dancing fountain display every 20 minutes in a man-made lake between the Dubai Mall and the Khalifah Burj from 6pm. till midnight. The older part of the city boasts a two mile long string of jewellers and gold stores. Crime is minimal because punishment is harsh.
 
Some very rich and famous people live here because of tax incentives and low crime. Roger Federer I am told owns a whole floor in a luxury high of condos and one floor is especially designed as a gym according to his specifications!
 
In the midst of all this, the Sikhs who now reputedly number 50,000, like other non-Islamic faiths, except the Christians who do have churches, a legacy of British dominance in the past, have been conducting their religious activities more or less clandestinely or at the least, unofficially. Though temporary gurdwaras have come and gone, the community needed a permanent place of worship.
 
The push for an official gurdwara, according to S. Keval Singh Ji, who personally supervises the construction besides Sardar Kandhari began about 27 years ago. The proposals kept getting knocked back but they did not give up. Five years ago, the Emir, after repeated requests from S. Kandhari and his team, gave the approval subject to consent from the 'Council of Imams' which is responsible for all matters of a religious nature.
 
The Sikh submissions strived to show the close proximity between Islam and Sikhism; the role played by various Muslim and Sufi saints in the developmental stage of Sikhism as a full-fledged religion including the fact that a number of Muslim 'pirs' have their hymns enshrined within the Sri Guru Granth Sahib; that Islam need not fear prosletysation from Sikhs; that Sikhism like Islam believes in the one God and does not approve of idol-worship; and finally that Baba Nanak, the founder of Sikhism passed this way with his constant companion, a Muslim, Bhai Mardhana, on their way to 'haj' at Mecca and Medina.
 
It was a pleasant and joyous surprise when consent was received from the Council of Imams, five years ago. To add to the joy and sense of well-being, the Emir bestowed a piece of land free of charge, for the Sikhs to build their gurdwara!
 
So, besides Christianity, which enjoys places of their worship, due to historical ties with the land, Sikhism is the only other faith which now has official sanction to have their own official place of worship on the land - a fact, all Sikhs worldwide, should be very proud of.
 
At the time of writing, the Dubai gurdwara named 'Guru Nanak Darbar', has reached ground level with a three storey underground carpark which will accommodate up to 500 vehicles. So, the foundations have been laid for the langgar hall at ground level and then a first storey for the main diwan hall which will not have any pillars and will seat 5000.
In the midst of our own 'problems' that we appear to be experiencing with our own hierarchy in Amritsar, this gurdwara is a shining example of Sikhi well-being outside Punjab, and a positive step in inter-religious harmony
 
The tentative official opening has been penciled in for Guru Nanak Sahib Ji's Gurpurab in November this year (2010). This will be a historic landmark for Sikhs and Sikhism and a good time to visit Dubai. Come and see the marvel of modernity; a place through which our 'Baba' (Nanak) passed through over five hundred years ago ... and good shopping for those so inclined - that is Dubai.
 
Our group had a wonderful time in Dubai and we were pleasantly surprised to be invited back for the 'opening', whenever it takes place. See you there!
 
Dya Singh (Australia)
31st. January, 2010