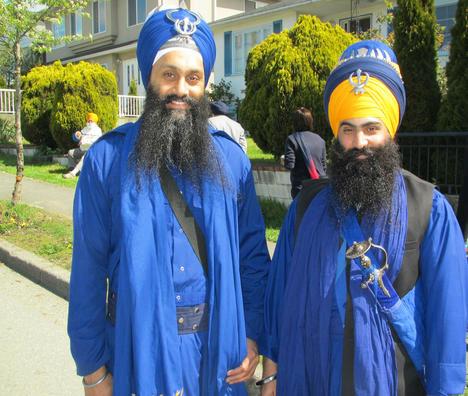 At yesterday's Vancouver Vaisakhi parade, I met two young men who were eager to educate me about the origins of the Khalsa.

Bhupinder Singh and Karamjit Singh were both dressed in the traditional blue garb of the Khalsa, which was created as a military order by Guru Gobind Singh during the Vaisakhi festival in 1699.

Bhupinder explained that at the time, Mughal invaders were forcing people in Punjab and other parts of the Indian subcontinent to convert to Islam.

"Many people were just fearing for their lives and their religion—not just Sikhs, but Hindus and [followers of] other religions as well—and having their families killed," he said.

Guru Gobind Singh's father, Guru Tegh Bahadur, had already been executed by the Mughals.

"So Guru Gobind Singh basically said we have to stand up for our rights, stand up for the rights of others, and said anybody has the freedom to practise their religion in any way they want," Bhupinder stated.

On that fateful day in 1699 outside a tent on a hill in Punjab, five brave Sikhs stepped forward, believing that the Guru was going to behead them. But it was only a test of their faith—Guru Gobind Singh wanted to know that they were willing to sacrifice their lives.

The five volunteers were inducted into the Khalsa and each was required to wear the five Ks: kesh (uncut hair), kanga (a wooden comb), kara (metal bracelet), kachera (a style of cotton underwear), and kirpan (a curved dagger or sword).

"The Guru gave us a separate identity," Bhupinder noted. "We're not going to hide ourselves. A lot of people back in the day—in order to stay kind of assimilated—hid their identity...so they wouldn't be oppressed."

Karamjit pointed out that his warrior's attire was banned by the British after they annexed Punjab in the 1850s. "They considered the Sikh warriors as a rebel force, so their policy was to kill them," he said.

When asked why the traditional garb is blue, Karamjit replied that this colour symbolizes being one with God.

Bhupinder declared that Guru Gobind Singh made Sikhs proud of their identity and proud to be defenders not only of their faith, but of other faiths as well.

"We don't provoke violence," Bhupinder emphasized.

He said that baptized Sikhs wear a kirpan to stop violence, and to defend helpless, poor, and weak members of society.

At that point, Karamjit, whose family has been in this country since 1902, interjected that there has never been a case in Canada of a person using a kirpan to threaten or rob anyone.

"It's like a Sikh in a uniform," he said. "You shouldn't feel afraid. You should actually feel comforted."