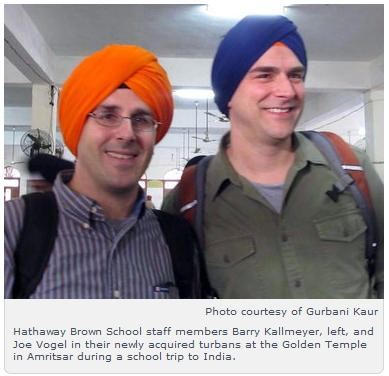 Wednesday, August 08, 2012: As a teenage American and Sikh youth, I am obligated to speak out against injustice, ignorance and religious intolerance.
My heart shrank in disgust as well as sadness as I watched news reports of the shooting at the Sikh Temple of Wisconsin in Oak Creek unfold before my eyes. I am flabbergasted that someone would commit an act of violence, completely unprovoked, against any worshipper at any house of worship.
Like the majority of Sikhs residing in the United States, I was born here and am an American citizen. I owe my allegiance to this country and am just as loyal as any of my fellow Americans.
The very American ideals and values of freedom and sacrifice for one's country are paralleled by the teachings of Sikhism. The three basic principles of Sikhism are to work hard to earn an honest living, to share one's earnings with others through charity, and to remember our almighty creator by chanting his name. The Sikh word for God is Waheguru.
Sikhism is a monotheistic faith that was born in the Punjab region of India. It is the fifth-largest world religion, with nearly 25 million followers. The word "Sikh" translates to "disciple" or "student," and Sikhism places a tremendous value on education and equality for Sikhs and non-Sikhs alike.
Anyone and everyone has always been welcome to visit a gurdwara, or Sikh temple. This fact is illustrated in the architecture of the Golden Temple in Amritsar, India. The temple has four doors -- north, south, east and west -- symbolizing that all are welcome.
Since the 9/11 attacks, which occurred when I was in the first grade, I have felt obliged to practice a great deal of parchar -- educating non-Sikhs about my faith -- because of the misguided association of the Sikhs with terrorism.
This past December, I was honored to fulfill the request of my Global Scholars teacher to give a presentation on Sikhism and the Golden Temple to my classmates and the faculty members who chaperoned my school's India trip.
After my presentation, I, with the help of my family, gave my peers a guided tour around the Golden Temple complex and inside of the gurdwara itself.
I knew my efforts were fruitful when, in between my presentation and the beginning of the guided tour, my Global Scholars teacher and another chaperone went to a local turban shop and purchased Sikh turbans for themselves, asking the shop owner to adorn their heads with the Sikh crown.
For the rest of the day, they wore the turbans -- an article of clothing whose mistaken association with terrorism has caused the unfortunate abuse and demise of American Sikhs since 9/11.
Through my experience as a young American Sikh, I have come to understand the meaning of Eleanor Roosevelt's wise admonition, "With great freedom comes great responsibility." In order to fully exercise our freedom of religion as Americans, Sikhs and other people of faith take responsibility for educating their fellow citizens, uplifting one another from the swamp of misguided ignorance that plagues our nation.
I appreciate President Barack Obama's kind gesture of ordering the American flag to be flown at half-mast until Aug. 10. I appreciate the empathy Sikhs have received from the Republican presidential candidate, Mitt Romney.
I would also like to emphasize our gratitude towards the first responders, who put their lives on the line to protect the Sikhs of the Oak Creek gurdwara -- especially police Lt. Brian Murphy, whose heroic actions as the first to arrive on the scene have left him in critical condition.
Please help me spread the word and honor the lives of Paramjit Kaur, 41; Sita Singh, 41; Ranjit Singh, 49; Satwant Singh Kaleka, 65; Prakash Singh, 39; and Suveg Singh, 84, who died in the Oak Creek gurdwara shooting.
And let us all extend our support and prayers for the safe and timely recoveries of Bhai Punjab Singh, Santokh Singh and Lt. Murphy.