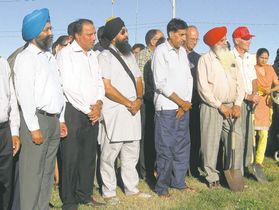 Major Singh Gill (left), of Guru Nanak Darbar Gurdwara, and members of River East Mennonite Brethren Church at garden sod-turning last summer. Both Sikhs and Mennonites promote the value of hard work and sharing to help others. (JOHN LONGHURST / SUPPLIED PHOTO)
As gardens go, it's not that big. But some Mennonites and Sikhs in North Kildonan hope it will blossom into something much larger.
The garden, located on the Northeast Pioneers Greenway near the corner of McLeod and Gateway, is the work of two neighbours -- River East Mennonite Brethren Church and the Guru Nanak Darbar Gurdwara.
Created through the City of Winnipeg's Adopt-a-Park program, one goal of the garden is to help beautify the Greenway, a popular pathway for area residents who walk, jog and cycle along the trail. When finished, it will feature an array of native Manitoba flowers, grasses and shrubs.
But the other, and perhaps more important, goal, says Sara Jane Schmidt, is to give the two faith groups a chance to build new friendships.
"Through the garden, we want to get to know each other better and foster understanding between our two groups," says Schmidt, one of the pastors at River East and a co-organizer of the garden project. "So much conflict in the world is the result of fear of the unknown -- of people not knowing each other."
For Gurpreet Brar, a member of Guru Nanak Darbar Gurdwara and co-organizer of the project, the garden is a "great community initiative. We hope this partnership between the two faith communities will grow into a special friendship, and inspire other groups to collaborate on areas of mutual interest and concern."
Last August, more than 100 people from the two groups joined together for the official sod-breaking for the garden. Following the ceremony, which featured blessings and prayers from leaders from River East and the Guru Nanak Darbar Gurdwara, the crowd celebrated with a meal of traditional Mennonite and Indian foods -- such as platz and samosas.
But it didn't stop there -- members from River East have gone to the Gurdwara for a service and a meal. In June, a member of the Gurdwara is going to River East to talk about the Sikh faith.
On June 3, the two groups will gather together once again, this time to plant additional flowers and plants in the garden. The planting, which takes place at noon, will be followed by lunch at the Gurdwara.
"Since the beginning of our inter-faith collaboration, we have worked together hand-in-hand," says Brar, adding the project has been an opportunity to "explore values we share while respecting differences."
And there are some differences between the two groups. For starters, Sikhism, with 26 million members, is the fourth-largest religion in the world, while Mennonites are a tiny part of Christianity, with only about 1.6 million members worldwide.
Sikhs originated in India, while Mennonites came from Europe. Sikhs use Punjabi in their worship services, while English is used at almost all Mennonite churches in Canada.
Sikhism is considered a minority religion in Canada, and many Sikhs are easily spotted by their unique dress, including wearing turbans and beards for many of the men. Mennonites, on the other hand, are part of mainstream society.
Theologically, Sikhs don't believe in hell, and they believe in reincarnation -- something that differs from traditional Mennonite beliefs. Both groups are monotheistic, however.
When it comes to war, Mennonites, in the main, are pacifist, while Sikhs have a noble warrior tradition.
Those are the differences; there are also similarities. Both faiths originated about the same time -- Sikhs in the 15th century; Mennonites in the 16th. Both were breakaways from the dominant religions of the time, with Sikhs diverging from Hinduism and Islam and Mennonites from Roman Catholics and Lutherans. Both groups suffered opposition and persecution as a result.
For both groups, faith is meant to be taken very seriously. The word Sikh means disciple, while discipleship is an important part of Mennonite belief and practice.
For both groups, equality is important. Mennonites call it the "priesthood of all believers," while Sikhs preach against caste and class -- the reason they eat seated on the floor is to show that no one is better than another.
Both groups revere their scriptures; the Sikhs the Adi Granth and the Mennonites the Bible. And both like to sing -- the Sikh scriptures contain more than 6,000 hymns and Mennonites are well-known for their musicianship and singing.
Both groups also promote the value of hard work and sharing to help others.
Their immigrant experiences also show some similarities. Mennonites who came to Manitoba from other countries faced challenges adapting to Canadian life -- they were culturally distinct, insular and spoke German in worship and at home. Sikhs, many of whom have arrived more recently, can also find it difficult to adapt to life in this country.
Mennonites also faced suspicion during the Second World War, when their loyalty was questioned due to their Germanic origin and the unwillingness of many Mennonite men to join the military. Sikhs found themselves under suspicion more recently by those who mistook them for terrorists following 9/11.
And now these two groups, with all their differences and similarities, are planting a garden, eating together, getting to know each other, and beautifying their neighbourhood.
It's enough to give you hope for the future. As a member of River East, I know I feel that way -- and I hope you feel the same way, too.
Republished from the Winnipeg Free Press print edition May 26, 2012 J17