The 'I' mentioned underneath is not Harjinder Singh – man in blue. The 'I' represents Guru's teachings, which I am trying to follow in my daily life.
I am human, I make mistakes, but in spite of my foolishness I receive many blessings.
I am not a gora (white) Sikh or a kala (black) Sikh
-     I am a Sikh
I am not a mazbi Sikh, a jat Sikh or a ramgharia Sikh
-     I am a Sikh
I am not a doaba Sikh or a malwa Sikh
-     I am a Sikh
I am not an AKJ Sikh or a Taksali Sikh
-     I am a Sikh
My Guru is the Guru Granth Sahib, not the Námdhari satguru, not the yogi who called himself the leader of the Sikhs in the western hemisphere, not the Soho Road (Birmingham) spiritual leader of the Sikhs in the UK, nor any other self-appointed holy man, pardhan or jathedar
-     I am a Sikh
I try to see God in all, regardless of race, faith, nationality or caste/social class
-     I am a Sikh
I am an initiated (
amritdhari
) Sikh, but I do not look down on those who are not
-     I am a Sikh
I wear a turban and keep the 5 Ks, but I do not look down on those who do not
-     I am a Sikh
I do not drink alcohol, do not smoke tobacco, do not use recreational drugs
-     I am a Sikh
I do not eat meat, fish, poultry or eggs, but do not condemn those who do
-     I am a Sikh
I wear 'bana', traditional clothes associated with Guru Gobind Singh's Khalsa, but I know that I will be judged on my behaviour, not on my clothes
-     I am a Sikh
I do not cut my hair or shave, I wear a
kirpan
,
kachhera
,
kara
and
kangha
, but do not think that those who do not are bad people
-     I am a Sikh
Source
------------------------------------------
517.The Man in Blue – Sikhí VI
If you go back to my previous column you will notice that I have not given any specific reasons for having uncut hair, steel bangle, cotton boxer short or wooden comb. This is because authors of books about Sikhí all give different reasons for wearing these 4 Ks, which do not seem to be based on authentic pronouncements of Guru. The Kirpan of course stands for the fight against injustice.
To me the main reason for wearing my 5 Ks is because Guru asked me to offer my head and wear the 5 Ks and the turban. I also see the value of being a visible Sikh. It reminds me that I have committed myself to Guru's path, and is a signal to others that here goes a Sikh who promised to serve all.
Many religious traditions have rules about not cutting or shaving all body hair, part of the body hair and also of course about having bold heads or shaving part of the head. To me all these have in common that they are signs of commitment.
Rings or bangles are often symbols of unity, unity within marriage, within a group, with God or with God and all humanity.
Guru's fighters often wore a number of heavy steel bangles from their elbow to their hand to protect the sword arm.
Cotton boxer shorts are very comfortable when worn underneath a traditional long wide shirt (chola), underneath an Indian style pijama or any wide type of trousers. Cotton clothes keep you warm in winter and cool in summer and absorb perspiration, which avoids prickly heat (rash) during the monsoon time.
The wooden comb is useful to comb your hair and pulls out less of it than modern western combs. If you tie you hair in a topknot, as many Sikhs do, you can stick the comb in your topknot, which helps to stabilise it.
The outer five Ks and the turban should go together with a Sikh way of life. The way of life is often associated with the five qualities. They are: Sat (Truth), Santokh (Contentment), Diá (Compassion), Nimratáh (Humility) and Piár (Love).
God is Truth, and Her/His followers should strive to live in Truth. We should be 'content', we should accept what is given to us and not constantly look for more, more, more. We should have compassion and care for the poor, the discriminated, the ill etc and we should also be willing to forgive those that have hurt us.
Humility is very important for a Sikh, and even more for an amritdhari (initiated) Sikh. It is so easy to become proud of the fact that you wear the 5 Ks and have given up habits that most people take for granted. Pride leads to ego and where there is ME there God is not !
Just like God is Truth, God is also Love, real Love, unconditional Love. We who claim to be God's followers should try and nurture this Love, also when those we try to truly Love do not respond with even ordinary human love.
If you thought walking in God's will would be easy I have to disappoint you, God puts many challenges on our way, but also gives us the strength to overcome them.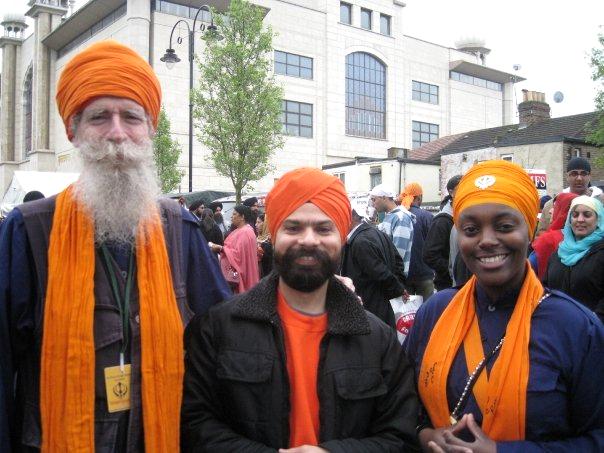 In Southhall with Harjinder Singh and Ram Kaur
---------------------------
Why a Dutchman, Cornelis Heule embraced Sikhism
An inspirational chat show with Dutch Sikh Harjinder Singh. Find out why he embraced Sikhism. We talk about his past experiences, his spiritual journey and his contributions to the wider society.
Cornelis Harjinder Singh Heule was born in 1947 in Roermond in the Netherlands as Cornelis Heule. He is known as Harjinder Singh, names given to him when he became an initiated Sikh in 1996.
He followed primary school in his hometown and the first half of his secondary in Heerlen. Harjinder Singh then moved to Amstelveen (near
Amsterdam) where he finished secondary school.
Harjinder went to University in Amsterdam, but he got caught up in the student movement. He worked for about 25 years in the travel industry, both in Amsterdam, The Netherlands and in Dublin, Ireland. In 1996 Harjinder Singh went to Panjab, India where he stayed for four years.
In the first 2½ years of his stay in Panjab he studied Sikhí and its history, and made himself useful in the Harmandar Sahib complex in Amritsar.
The last 1½ year in Panjab he stayed mostly in Chandigarh, where he did voluntary work (seva) for the Institute of Sikh Studies.
In 2000 he came to West London, UK where he lived until June 2010. He did not have a 'job' but was involved in a number of different organisations as a volunteer and as 'Faith and Cultural Diversity consultant'.
Harjinder Singh was a member of the Multi-Faith Chaplaincy team at Heathrow Airport and at Richmond upon Thames College and was involved in a number of Sikh lobby groups and advisory groups to the Police. Mr Singh did diversity training for the Slough REC, and was the National Development Officer of Faith & Belief in Further Education.
On June 17 2010 Harjinder Singh moved to Sint Truiden in the Dutch speaking Belgian province of Limburg, where he is trying to make himself useful by using his language skills. Harjinder Singh at present is assisting Sikh families from Afghanistan with their Asylum case in Belgium. He is providing all necessary assistance to one Afghan Sikh family in particular, who are threatened with deportation to Kabul, Afghanistan.
He does still write his weekly column (The Man In Blue). He is sixty-five, happy and busy doing seva for the Panth.
View photos:
http://www.flickr.com/photos/[email protected]/