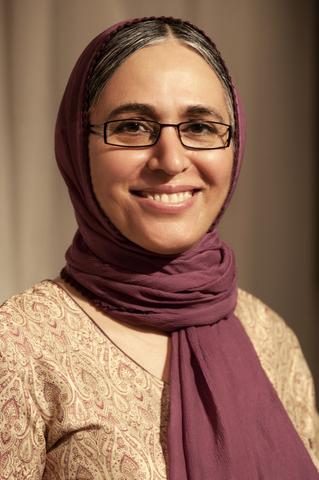 The first time I realized that the true image of the Guru is not a painting of a person; I removed all the paintings from my wall. I had realized that the true image of the Guru is the truth behind the Guru's Sabad. My husband was furious. I told him these pictures were not motivating us, and he asked me what we will replace them with on our walls. I told him we will come up with something one day, but not these.
 My journey began several years ago when I understood the meaning of the verse in Japji Sahib 'Sunai dukh paap ka naas'.  This understanding led me to connect with the Divine Truth within.  As I embarked on this journey of understanding Truth through Gurbani,  I found it easier to handle life's challenges as I perceived the world in a positive light.  This positive impact inspired me to share Guru's teachings with the community.
Several years later when I moved from New Delhi to New York I started giving Gurbani programs in gurdwaras and peoples' homes. As I met more people through this mission I noticed that their beautiful homes were missing the invaluable messages of Sabad Guru to adorn their walls. 
 I immigrated to Canada in 2005 I became actively involved in teaching Gurbani to the youth in addition to giving Gurbani programs.  One day life took a turn and I was injured in a car accident which left me unable to speak and I was confined to bed rest for a few weeks.   During this so called difficult time, I got thinking of how to increase my self -worth just in case I was no longer able to live an active life again. 
I started visualizing Sabad Guru blended with art on the walls as I was spending a lot of time in bed.  The strength I received from Gurbani gave me a creative outlet to convey the Guru's message to people. I began to compile deeper interpretation of certain Gurbani verses that would help one with overcoming hurdles in one's spiritual growth. 
 Within 6 months I was on my way to recovery.  I wanted to go to India to find an artist who could express my vision on canvas.   In spite of having financial difficulties, I didn't want to take up a job because I was determined to devote my time in spreading the Guru's messages in a unique and creative way.   As we were not financially stable, I had to convince my husband to support me in bringing this mission to fruition.  
While interacting with people I understood their struggles and realized where they were stuck in their thought process.  I noticed a common thread in the issues people were facing.  Mostly, they were stuck with questions like Is there a God? Is there justice and fairness?  Is there a connection between life events?  Because of the lack of understanding of the Divine laws people get confused and frustrated and lose interest in spirituality. Hence, I used this as a basis to create a theme for the paintings.  I then compiled a list of Gurbani verses which were short and related to the themes. I wanted the paintings to help people understand Gurbani on a deeper level so I used art as a medium to depict the Gurbani verse along with a brief explanation of the topic and its underlying meaning.
I decided to start the initial series highlighting mystery of life in the first painting.  From the mystery of life I moved onto other stages I wanted to see on canvas: finding life's purpose, attaining divine wisdom, becoming immersed in love, finding the kingdom of peace within, and ultimately uniting with the divine. Till date the two series have been created depicting one's spiritual journey.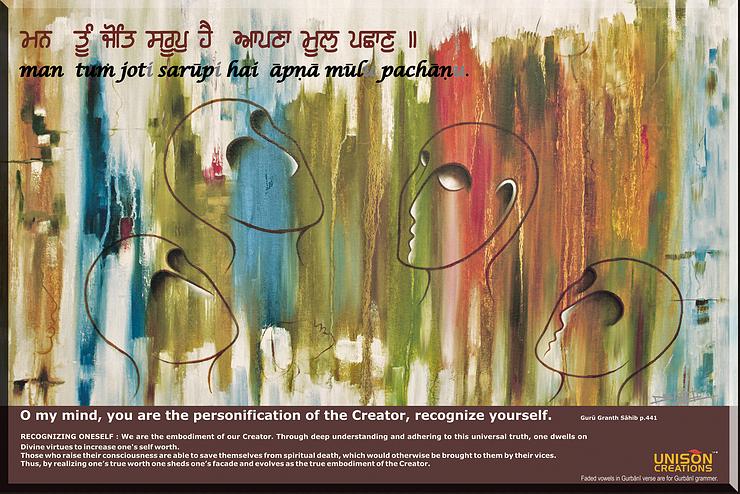 This endeavour was not without its challenges.  I travelled to India to make this vision a reality.  Upon arriving in India, I told my brother that I needed to find an artist. My brother told me I was crazy for leaving my household responsibilities for this mission.  Later, he sensed my determination and decided to support me with the next steps towards my mission.  When I found an artist who was ready to work for me, she was more interested in making money than creating something that would fit with the Guru's message. For 1.5 months she created something, but I didn't like it. I was expected to pay her for her work even though I did not use those inadequate paintings. 
I hired another artist, but he was neither passionate about Gurbani nor hard working.  This showed through his paintings.   At this point, I decided that I needed a humble artist who could work with me and was not money oriented since this project needed a lot of flexibility and patience.
I spent all my retirement savings from my teaching job, and went home to North America with an empty bank account. Several months after I had returned to Canada, I felt compelled to go back to India. I didn't have any money, so I bought a ticket by borrowing from a friend. This time I came across a budding artist who was willing to work with me on this project. He understood my passion and mission and was very flexible in refining the art work as per my vision.
Once the project was in progress, I travelled back and forth between India and Canada borrowing money and selling my jewellery to pay for the project. Since I didn't have any computer skills, it took a lot of time and money to create suitable fonts and replicas.   Blending the writing with the paintings was another challenge.
Once the series was complete I planned an exhibition at Rakab Ganj Gurduara in New Delhi during Vaisakhi.  I was supposed to display several paintings at an exhibit, but there was a short circuit in the factory where the paintings were being replicated, so I was at the exhibition with only two or three paintings. My only choice was to show the paintings through a PowerPoint presentation. The community showed a lot of interest at this time.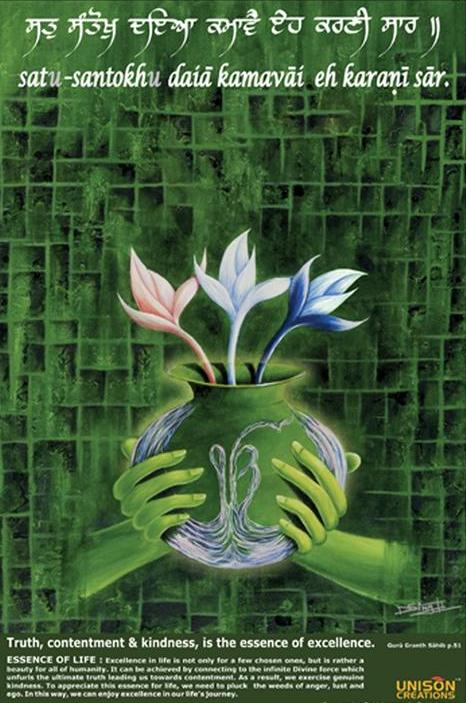 Finally after five years I booked the International Center in Mississauga, Ontario for another exhibition.  However, my doctor said I had to have major surgery, and I postponed it. On October 9, 2001 I held my first exhibition and about 1500 people visited.  People from other communities as well visited this event as the messages reflected by the painting were universal.
After this small success I built an art house in Brampton, Canada.   I hope that people will be inspired by the Guru's message through these paintings.  My vision and mission are my top priorities and I strive to spread the Guru's message to the community.  I launched a website to make these painting easily available to the public. Separate website for India is under construction. These painting are available in both English and Punjabi.  They are also available in various frame styles and sizes to suit one's personal choice.  With the grace of the Guru I look forward to working on the third series of paintings in the near future.