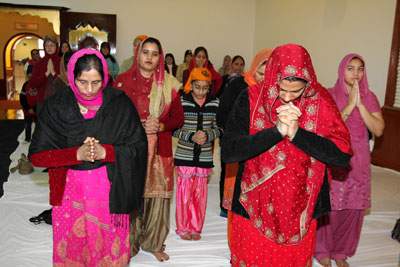 Tribune Photo/MIKE HARTMAN


Members of the Sikh Cultural Society of Indiana pray during a service Sunday on Day Road in Mishawaka.
MISHAWAKA — It would have been easy Sunday for Kathy Coleman to dwell on the differences between the Sikhism religion and her own Lutheran faith.
After all, upon entering the Sikh Cultural Society of Indiana's Gurudwara, or place of worship, at 12800 Day Road, she was asked to cover her head with a scarf and remove her shoes. Both are gestures meant to show God respect.
More significantly, Sikhs do not worship Jesus Christ as do Lutherans.
But asked to reflect on the few hours she and about 20 other visitors spent there Sunday, as part of the United Religious Community of St. Joseph County's "Walks in Faith" program, Coleman said she was struck more by what the two denominations have in common.
"I saw a lot of similarities between the two religions," said Coleman, of Lakeville. "Just the fact that we also look at one God, that everyone is God's child, that this religion has a messenger as a way to God and Christ is our way to God. There are all kinds of religions in the world, and I think understanding is the way to world peace. That's an awful big wish but I think there's so much misunderstanding it's just important to get out there in the world to see who else is out there, especially when it's right here in Mishawaka."
Coleman's church, First English Lutheran Church in Mishawaka, hosted the Sikhs and others at its church on Saturday. On Sunday, it was the Sikhs' turn to educate visitors on their faith.
After enjoying some Indian food, all of it strictly vegan, meaning no animals were killed to prepare it, the Sikhs and visitors moved to the prayer hall, where Gurvinder Singh Rekhi, who works in information technology at the University of Notre Dame, presented a PowerPoint display about Sikhism.
With 23 million followers, 20 million of them living in India, it is the fifth-largest world religion, and at just 500 years old, the youngest. It was founded by Guru Nanak Dev Ji in the 15th Century, in the Punjab region of northern India, at a time when the Muslim Mongols were invading India and people were being torn between Islam and Hinduism.
The religion is strictly monotheistic, believing in one supreme God. Sikhs also believe in reincarnation. As in Christianity, a person can enter Heaven or hell after death, depending on the type of life they have led on earth. But those who fall somewhere between the two are reincarnated up to 840,000 times, coming back as all different types of animals, Sikhs believe.
Sikhs embrace five gifts, popularly known as "The Five K's":
Kesh, long and uncut hair
Kanga, a wooden comb;
Kara, a steel bracelet;
Kachhahra, pair of special shorts;
Kirpan,a sword.
They also live by three golden rules: Honest living, sharing your earnings (Sikhs are required to donate at least 10 percent of their earnings to the Gurudwara or another charitable organization), and remembering God in your day-to-day life.
One reason the Sikh Culture Society of Indiana wanted to open its doors to the rest of Michiana was embodied in one of the PowerPoint slides.
"Every person who wears a turban is not a Sikh," the slide read.
Rekhi and his wife, Tina, lived in New Jersey when the Sept. 11 terrorist attacks occurred. She said Sikhs suffered considerable discrimination there as a result of the attacks because so many people confuse Sikhs, whose men also wear turbans and grow long beards, with Arab Muslims.
The first person killed in a post-9/11 hate crime was a Sikh who was shot in his store in Arizona, Gurvinder Rekhi said.
"When I am at airports I'm asked if I'm an Arab," Gurvinder Rekhi said. "They're starting to understand but also the onus is on us to educate."
Rekhi said he hopes everyone will feel welcome to visit their facility, with no appointment needed.
After a brief question-and-answer session, the Sikhs conducted their weekly worship service, which, like most Christians, also falls on Sundays. Their high priest played an accordianlike instrument while chanting hymns and prayers in Punjabi, a language all of the roughly 100 members understand and speak regularly, along with English.
The event concluded with another vegan meal. Tina Rekhi said Sikhs are generally allowed to eat meat (but no beef because the cow is regarded as a sacred animal), just not inside the Gurudwara.
The Rev. Leonard Jepson smiled as he watched the visitors ask more questions and share laughs with the Sikhs. Jepson, the First English Lutheran pastor who spearheaded the program, said he has traveled the globe studying other religions, including visits to Gurudwaras in other countries. He said his denomination is one of the more liberal ones in the Lutheran church. Evangelicals are "divisive" when they quote Jesus saying that he is the only way to God, he said.
"For 30 years it's been a passion of mine to focus on the things we have in common," Jepson said, "and that's faith in God, instead of what divides us."