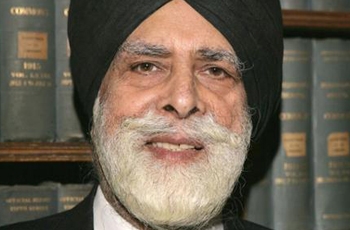 Indarjit Singh will sit as Independent in House.
A leader of Britain's Sikh community is to become the first turbaned member of the House of Lords.
Indarjit Singh, director of the Network of Sikh Organisations, who will sit as Independent, made it clear that he did not intend to be a "token Sikh."
He played a central role in a landmark case that led to Sikhs being allowed protection under the race relations laws for wearing their religious symbols in public.
"I'm delighted to be the first turbaned Sikh in Parliament. It is an honour for the whole Sikh community. It gives me a new opportunity to do what I have always tried to do, to work with people of all beliefs to increase tolerance and understanding, and work for greater social and political justice in society," he told The Times.
He added, "As Sikhs we have a glorious history of commitment and sacrifice for uplifting ideals. It is important that we see this as inspiration to work for a better present and future, not simply for ourselves, but for all people in line with our Gurus' teachings. The mantra of today's times to look after ourselves, because we are important, is creating a selfish and fragmented society. We saw the worst features of this in the recent riots. As Sikhs we see a wider society where the focus is away from an unhealthy obsession with self to the needs of wider society I would like, in my small way to work with like-minded people to reverse this trend. Sikh teachings are a unique blueprint of how to move in this direction."
Dr. Singh, 79, who is also vice-chairman of the Inter Faith Network UK that promotes inter-faith understanding, became the first Sikh to address a major conference at the Vatican in 2008. He was given the UK Templeton Award for promoting religious understanding in 1989.
Other honours include the Interfaith Medallion awarded jointly by the BBC and the Council of Christian and Jews for services to religious broadcasting; an Order of the British Empire (OBE) in 1996; and Commander of the Order of the British Empire (CBE) in 2009.
Dr. Singh said he would focus on the core ethical values that most religions shared and the need to promote solidarity across communities.
"The mantra of today's times — to look after ourselves because 'we are important' — is creating a selfish and fragmented society in which rights are put before responsibility. We saw the worst features of this in the recent riots. I would like, in my small way, to work with like-minded people in all communities to reverse this trend."