Kuldip Nayyar has apologized to Sikhs – an attempt to repair his damaged image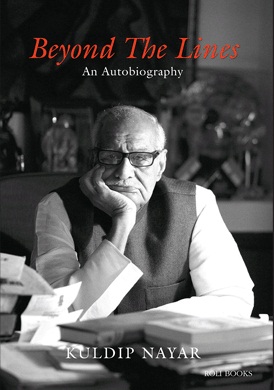 Kuldip Nayar apologizes to the Sikhs – controversial parts to be removed from coming editions.
Jalandhar/Ludhiana (July 15, 2012): As per information available with "Sikh Siyasat" pro-Indian state journalist Kuldeep Nayar has tendered an unconditional apology to the Sikhs for the "unintentional" hurt caused to the community for certain remarks in his autobiography 'Beyond the Lines: An Autobiography'.
A statement issued in Jalandhar by senior journalist Satnam Manak on behalf of Nayar, quoted him saying, "I have always raised my voice for justice and genuine demands of the Sikh Community and have always championed the cause of Punjab, Punjabi and Punjabiyat. There is a long history about such activities."
The statement further read, "During the sad happenings of Operation Bluestar and Sikhs massacre in November 1984, I joined prominent citizens like Inder Kumar Gujral, Air Marshal Arjan Singh, General Jagjit Singh and Justice Rajinder Sachar to raise voice against the excesses committed on Sikh community."
Nayyar has assured that the objectionable portions in the book will be removed from the next editions saying, "I had no intention to hurt the feelings of the Sikhs so I have decided to remove the portions on which objections have been raised and these would not be printed in the next editions of the book. Still if some portions have hurt the feelings of some sections I regret and apologise."
Political analysts and critics are of the view that the terms of today's release are an attempt to repair the damaged image of Kuldip Nayar as a sympathiser of the Sikhs. Nayyar was able to maintain this false image and even his highly controversial write-ups went unnoticed.
But recently the Sikhs took strong notice to his recent columns on Rajoana and Saka Darbar Sahib memorial issues besides the vilified propaganda and misinformation given in his autobiography.
In a recent talkshow (Qaumi Masle Ep.4) held by Sikh Siyasat, renowned author S. Ajmer Singh was of the view that the real anti-Sikh mindset of Kuldip Nayyar is now exposed, and it is better that he is exposed through his own writings.
---------------------------------------
Nayar Apologises to Sikhs for 'Hurtful' Passages in Book

PTI
http://news.outlookindia.com/items.aspx?artid=768886
Amritsar | Jul 15, 2012: Veteran journalist Kuldip Nayar today apologised to the Sikh community if any portion of his recently-released autobiography Beyond the Lines had hurt their sentiments.
The autobiography, which alleges that militant leader Jarnail Singh Bhindranwale was a creation of the Congress, had earned the ire of several Sikh radical groups.
In a statement here, Nayar said it had come to his notice that some parts of his autobiography had angered the Sikhs and several radical groups.
He had always raised his voice in favour of the Sikh Panth and had been a votary of Punjab, Punjabi and Punjabiat, the columnist said.
"I have a long history of activities and writings in this respect. I have no intention to hurt the sentiments of anybody," he said.
"As such, I have decided to delete the portions of my autobiography on which objections have been raised. These parts shall not be there in the next edition of the book.
"Even then, if I have hurt the sentiments of anybody, I feel sorry and apologise for the same," Nayar said.
The veteran journalist had stirred a hornet's nest by writing in his book that Bhindranwale and the Dal Khalsa were "blessed" by the Congress.
The book's also claimed that Sikh Student's Federation chief, Bhai Amrik Singh, who died during the Operation Blue Star in June 1984, was an "IB agent".
This angered the Sikh radical groups who termed his autobiography as a "vilified propaganda" and demanded an apology from him.
Earlier, AISSF president Karnail Singh Peermohammad had said they would launch a campaign to burn copies of the book in front of Nayar's residence in Delhi.
He had demanded the sale of the book should be stopped immediately till the chapter "Punjab in flames" was deleted.