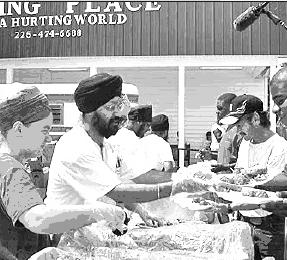 London, UK - As the chilling wind of winter blows in, UNITED SIKHS volunteers and students of the King's College Sikh Society will walk on the streets and under the bridges of Central London to feed the hungry and homeless on 20th November 2009 at 6pm to mark Sikhi Week.

The hot food prepared by the volunteers of The Central Gurdwara London comprising, lentils, rice, hot pudding and fruits will give warm comfort to many in the cardboard city of London.
During the Feed the Hungry walkabout, our volunteers will also be collecting donations, from the more fortunate office workers traveling home during the rush hour on the streets of London, for the Internally Displaced Persons in Pakistan who are facing daily dangers from bomb blasts.
We will meet to distribute the food at 6PM at the Embankment Underground Station and we also need volunteers to prepare and pack food starting at 3 PM at the Central Gurdwara, 62 Queensdale Road, London W11 4SG, UK

If you wish to volunteer to be part of this project email [email protected] or call Prabhjot Kaur 0790 811 218

Feed The Hungry event on the streets of London in April 2009