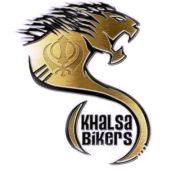 Next Saturday 14th July Khalsa Bikers will begin their next adventure. For those that are unaware of Khalsa Bikers, the organisation is a registered charity with the Charities Commission of England & Wales.
Khalsa Bikers was set up by keen motorcyclists from across the UK who combined their passion for two wheels with Guru Nanak Ji's message of selfless-service. The main bulk of the work is centered on the notion of furthering the prevention or relief of poverty and the relief of sickness. The overriding objective is to help with the advancement of the Sikh Dharam.
Last year the bikers successfully completed a 900 mile round trip from London, England to Glasgow, Scotland and helped raise just under £10,000 for Khalsa Aid. They in turn were able to apply these funds towards their Focus Punjab project which helps the Shaheed families who are currently living in dire poverty.
Be sure to check out last year's video log:
This year's installment will see the bikers attempt to conquer Western Europe by riding approximately 2500 miles through 7 countries in 7 days.  This monumental effort is taking place to help Khalsa Aid, Sikh Organisation for Prisoners Welfare and Great Ormond Street Hospital.
More information about all three beneficiaries can be found on our website.
The Gurdwaras throughout these countries have kindly offered accommodation for the bikers so we are thankful to them for this. Please take out some time to view our promotional video for this year's event which includes some words from our bikers, volunteers and all 3 of our beneficiaries.
As most of the bikers are Kesdhari Singhs, not only will they be able to help 3 great charities, they will also utilize the opportunity of placing Sikhi on the European map in a quite unique and adventurous way. The bikers will travel through France, Belgium, Holland, Germany, Austria, Italy and Switzerland and are looking forward to representing their faith in its best light – with an abundance of ChardiKala!
We hope all of you SikhNet readers out there will take out some time and visit our website and share the work we're doing for 2012. Without the support of the Sangat we will not be able to do what we do. We thank you in advance for your continued support and would like to send a special message for all the European Sangat – we're coming to a town near you J
JOIN US: www.facebook.com/pages/KhalsaBikers
FOLLOW US: @KhalsaBikers
DONATE AT: www.justgiving.com/KhalsaBikers
CONTACT: [email protected]
MORE INFO: www.khalsabikers.org
Vaheguru Ji Ka Khalsa Vaheguru Ji Ki Fateh!