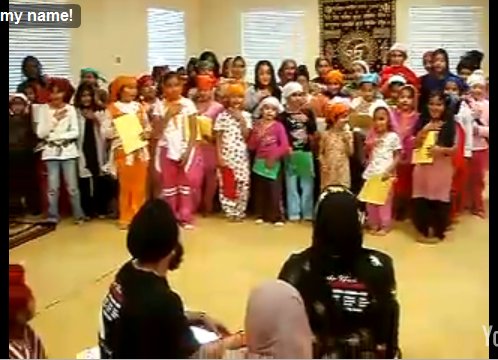 This song is from the Jakara 2006 Regional Mata Khivi Day. This particular clip was taken from their San Jose group, but the song was sung across California on Saturday October 28, 2006.

In 9 cities (Livingston, Turlock, Fresno, San Jose, El Sobrante, Sacramento, Los Angeles, Orange County, and Bakersfield) the Sikh youth came together to celebrate Mata Khivi as well as discuss gender-based issues that still effect our community today. Become part of the change. We are the movement.
By popular demand, here are the lyrics. Feel free to sing-along...
Kaur Kaur Kaur is my name (tap chest 3 times with hand open)
The Guru has made me a queen (hands together and touch top of head as if crowning)
I will always believe in myself
And always reach for my dreams (reach to the sky)

Kaur Kaur Kaur is my name (tap chest 3 times with hand open)
And I know the Guru loves me (hug self)
Strong, Smart, and Beautiful am I (flex, point to temple, open hand down forehead to mouth over face)
Second to No-bod-ee (nobody) (put two fingers up and nod head saying no)
For more details visit: www.jakara.org