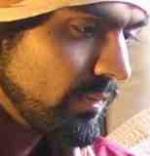 Born in Amritsar India, Canadian artist Kanwar Singh Dhillon has been channeling art for as long as he can remember. He is influenced by a host of past masters such as Sobha Singh, Caravaggio and J.W Waterhouse.

Growing up in Toronto Canada, Kanwar explored several paths that would allow him to work as a professional artist including animation and book illustration. However, it wasn't until he started to take an interest in Sikh history that his art took a definitive turn to magnificence.

Kanwar Singh's work combines the grace and beauty of Sobha Singh's portraits with the documentary style of Sikh history painters such as Devender Singh. But it actually goes beyond those works and is quite unique in the power, depth, inspiration and beauty of his portrayals of consumate moments in our legacy.



His painting of the birth of the Khalsa, rendered from a point of view behind Guru Maharaj Ji and Mata Sahib Kaur Ji, looking out towards the assembled sangat, as well as his peerless painting of Guru Gobind Singh Ji Maharaj bowing to the Siri Guru Granth Sahib as he gives us our Guru for all time, are both deeply moving.

But it is his latest painting, which depicts Guru Arjan Dev Ji dictating the Adi Granth to Bhai Gur Das Ji, which has moved me more deeply than any of its predecessors. Guru Ji sits on the Perkarma in a state of deep repose. The expression on his face is one of joy far beyond the physical plane. The pristine Darbar Sahib shines with the glow of the morning light, radiant in the sarovar behind him whilst Bhai Gur Das records the Shabd "Guru Dev Mata, Gur Dev Pita" on a scroll resting before him. The moment is transcendent. The trees, the birds and the sky itself are all enthralled and suspended in time as the sound of the Guru's Shabd fills the holy space. The magnificence, intimacy and deep sacredness of the moment is captured perfectly, far beyond words to express.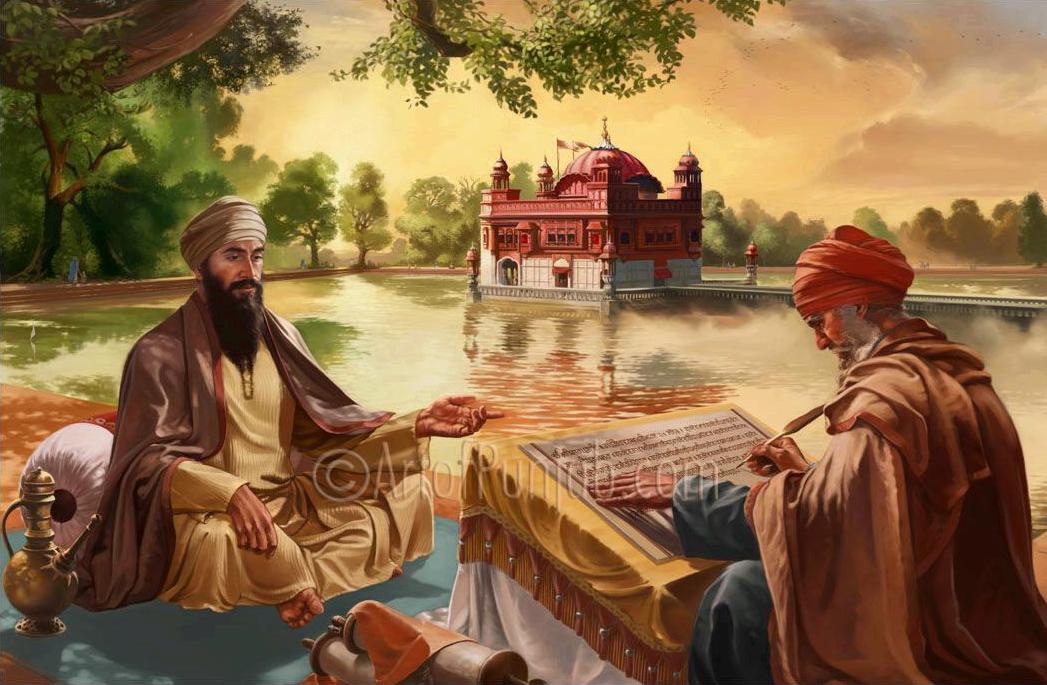 In this amazing and inspired masterwork, Kanwar Singh has channeled an image that transcends the limitations of time and space, opens our hearts and provides us with deep inspiration.
I invite you to explore Kanwar Singh's online gallery and especially his magnificent new painting of Siri Guru Arjan Dev Ji and the Birth of the Guru Granth Sahib.